Ford on pole with Ferrari for success in Sunday Times "Top 100 Cars"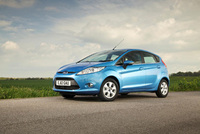 Two Ford models scooped 'best in class' in The Sunday Times' "Top 100 Cars" published yesterday. Ford is one of only two brands winning multiple classes in the round-up which ran over two weeks – the other being Ferrari.

The ever-popular Ford Fiesta ranked first in the newspaper's Supermini class, with judges selecting the 1.25-litre 82PS as the pick of the range.

"The Ford Fiesta is easily the most attractive car in its class and is fantastic to drive, " concluded The Sunday Times.

The honour comes soon after the Ford Fiesta ECOnetic's victory in the 2012 MPG Marathon when it averaged 108.78mpg over the 370-mile course.

Ford's second category win was in the MPV category, where S-MAX took the top spot. The stylish seven-seater was described as the "everyman Multi-Purpose Vehicle".

The paper continued: "Inside the Ford S-MAX's cabin is flexible, spacious and airy." Also in the MPV class was the Galaxy, making Ford the only company with two entries among the top 10 MPVs, with great handling identified as key to its appeal.

Ford Mondeo was praised in the Family Cars and Estate section for being "classless and capable across the board".