Watch Turtles nest on Australia's Heron Island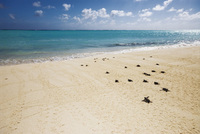 The annual turtle nesting season is set to begin on Queensland's Heron and Wilson Islands, with an abundance of green turtles coming ashore to nest on these two Great Barrier Reef coral cays.
It's a spectacular sight watching turtles coming out of the ocean and laboriously pulling themselves up the beach to lay their eggs, all under cover of darkness at night and in the early hours of the morning.
From November through to March every year, a breeding population of turtles comes ashore on Heron and Wilson Islands to nest, approximately three to seven times during a season. The turtles lay their eggs at the same location where they were born, laying on average 120 eggs in one clutch.
With careful guidelines for viewing, families can immerse themselves in all the action on a casual walk around the islands' beaches.
Turtles migrate to Heron and Wilson Islands from as far afield as the Solomon Islands, Cape York and Harvey Bay, returning after an absence of 35 to 40 years since their birth here.
By Easter, both Heron and Wilson Islands offer the captivating opportunity to see one of life's natural wonders close up as thousands of baby turtles emerge from their nests to make the annual scurry to the safety of the sea.
True coral cays that sit right on the World Heritage-listed Great Barrier Reef, Heron and Wilson Islands boast some of the most amazing snorkelling and diving year round, just minutes from the beach.
Heron Island is also home to one of Australia's most important reef Research Stations. Administered by the University of Queensland, it provides accommodation, boats, diving gear, laboratories and a seawater aquarium system for researchers and student groups. Guests at Heron Island Resort are actively encouraged to learn more about the Research Station and its work to get a better understanding of the delicate underwater world that surrounds them.
Most recently Heron Island reinforced its position as one of the most spectacular underwater environments when it was linked to the launch of the Catlin Seaview Survey.
This critically important series of expeditions, which run from September through until the end of December, will take in 20 specially selected coral reef locations in northern Queensland and will be the first comprehensive study to benchmark the health of the Great Barrier Reef and assist in understanding changes to these critical marine environments.
The Shallow Reef Survey uses state of the art digital technology including a purpose built camera to capture tens of thousands of 360 degree panoramic images necessary for the monitoring project. This camera equipment was trialled over multiple dives which took place on Heron Island over recent months.
This unique underwater experience will invite the world to watch this science in the making for the first time when it appears in the Street View feature within Google Maps, Panoramio, Google+ and Google World Wonders.
For further information on Heron Island visit: heronisland.com
For further information on Wilson Island visit: wilsonisland.com