Visit the world's deadliest spider this Halloween!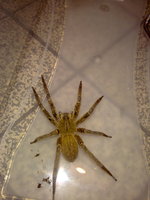 If you really want to be scared this Halloween then take a visit to the Stratford Butterfly Farm – now home to the worlds deadliest spider. The Brazilian Wandering spider known scientifically as Phoneutria nigriventer, is extremely venomous as well as being particularly aggressive. Usually found in tropical South and Central America, the deadly spider appeared in the Guinness World Records in 2010 as the world's most venomous spider.
Housed inside an alarmed cage to ensure complete safety, visitors are able to get within inches of this frightening creature. Although deadly, bites from this spider are rare as they prefer to avoid large animals such as humans. Should someone be unlucky enough to get bitten then side-effects including loss of muscle control, severe pain, difficulty breathing and oxygen deprivation could eventually cause death. The spiders leg span can grow up to 4-5 inches and their body length up to 1.9 inches. Wandering spiders are so-called because they wander the jungle floor at night.
Emma Bartholomew, Marketing Manager at the Stratford Butterfly Farm stated "We are delighted to have a Brazilian Wandering spider amongst our many inhabitants! Although dangerous, the spider is safely installed in one of our alarmed tanks and completely safe for visitors to view".
As well as seeing the spider, housed in the creepy 'Arachnoland' this Halloween, children can take part in the Jungle Explorers Trail during the October half term. The trail will take children on an exciting journey around the Butterfly Farm to discover interesting facts and amazing creatures from around the world.
The Stratford Butterfly Farm is also celebrating recently after winning 1st place in the Stratford in Bloom competition. The Butterfly Farm has now won the competition for the third year running in the "Tourist Attraction" category.

To see the infamous spider and hundreds of other spectacular butterflies and insects, visit the Stratford Butterfly Farm from 10:00am – 5:30pm. For more information please visit the official website at butterflyfarm.co.uk.