New online system speeds up yacht immigration process in Gibraltar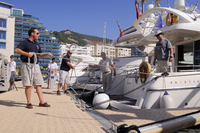 This week Gibraltar launches ASYCUDA (Automated System for Customs Data) which will slash check-in times for yacht captains by half. The web-based procedure replaces outdated paper immigration systems and brings Gibraltar in line with major European ports of entry.
Karl Bisset, Harbour Master for Gibraltar's Ocean Village Marina and Marina Bay, comments, "This project is a great step forward for immigration in Gibraltar as firstly, captains can do much of their customs clearance prior to arrival with us just cross-checking in-person and sending to the relevant authorities. Secondly, once the vessel's details are in the system, we won't need to repeat the process each time it returns, just view the passports of any changed crew. The Pier Office and captains alike will be happy to say goodbye to the time consuming form filling – and we'll save a few trees-worth of paper too."
Designed by the United Nations Conference on Trade and Development to help administer customs, ASYCUDA offers data harmonisation, document simplification, full electronic payments, electronic trade licenses and a paperless environment for all cross-border regulatory agencies. In order to use the system, captains must make a one-off investment into a £50 tablet computer to provide a digital signature on the immigration form. This tablet is available from the Pier Office.
Neil Costa, Minister for the Port, said of the new system, "I am pleased to have been able to complete this project that has been on-going for the past 18 months, to which we have given our full backing since being elected. This system will facilitate the activities of HM Customs, the Gibraltar Port Authority and the Borders & Coastguard Agency, whilst making Gibraltar a more attractive commercial and leisure hub for vessels. It should have a positive knock-on effect for the local economy."
To register for the new immigration system or to make an electronic pre-declaration, visit:
oceanvillage.gi/electronic-system-offers-faster-arrivals-on-the-rock/.
For information on berths at Ocean Village, visit oceanvillage.gi.