James Bond 007 sniffs sweet smell of success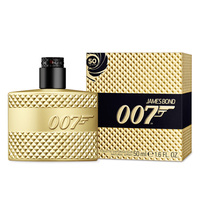 James Bond 007 sniffs sweet smell of success as the best selling new launch at The Perfume Shop last week. Celebrating its 50th anniversary it topped the perfume charts by selling the most bottles in the men's and women's category at this very exciting time for Bond!
The scent has so far sold the equivalent of filling up over 1'000 martini glasses, shaken not stirred mind you and it is predicted for record breaking sales next weekend following the Bond phenomenon that hits UK this week.
November 1st also sees the launch of 007 Gold Limited Edition celebrating the 50th year gold anniversary it is appropriately encapsulated in a sparkly gold bottle, its perfume cap rotates just like a 007 gadget in disguise and has the 007 gold image on the outside.
James Bond 007 is available in the following sizes, EDT Spray 30ml & 50ml priced at £19.50 and £24.50 respectively. 007 Gold Limited Edition comes in 50ml only and is priced at £24.50. To discover more about James Bond 007 latest scents or to purchase your favourite scents visit theperfumeshop.com.