Seat drops Mii and becomes global Twitter trend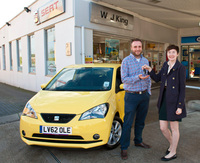 When SEAT and Auto Trader teamed up to suspend a Mii from a crane 35 metres above Potters Fields Park in London's South Bank, and promised to give it away to one lucky Twitter user, it was always going to attract interest.

However, few could have predicted the global phenomenon that the New Car Drop competition would become. Not only did the striking sight of a dangling Mii attract the crowds to the London venue itself, it also set Twitter alight.

At its peak the competition – which asked Twitter users to say in fewer than 140 characters why they deserved to win the Mii – attracted 12,687 Tweets in just two hours. Incredibly, that put it in the top five most popular trending topics on Twitter globally; the accompanying '#winMiiwithAT' hashtag was the fourth most used on Twitter worldwide during that period.

After a frenzied few hours during which Twitter users desperately tried to outdo each other for a SEAT Mii Sport in Sunflower Yellow, Auto Trader awarded the car to 28-year-old David Hyslop from Hammersmith, for the following Tweet:

When I approach hitch-hikers, they give me the thumbs down.

Collecting his car from SEAT dealership WJ King in Sidcup after the event, a shocked David said: "I sent a few Tweets and kept an eye out online and thought something must be going on when SEAT started following me. Then, minutes later, they Tweeted the good news."

And now, having had some time to drive the car and let the reality of the prize sink in, David still can't believe his luck. "When I first saw the competition on Twitter I thought I'd give it a go because the prize on offer was amazing – a brand new car for just 140 characters," he said.

"I've already racked up quite a few miles in my Mii and I'm absolutely delighted with it. It's brilliant to drive and perfectly suited to my central London commute. It's cheap to run, insure and tax, and easy to park – it's the perfect city car and I'm absolutely loving it."

Jon Quirk, Editor in Chief of Trader Media Group, explained why Auto Trader chose the Mii as the focal point for its flagship event – which was exposed to an estimated 24,000,000 people worldwide. He said: "The SEAT Mii is one of Auto Trader's favourite city cars, proving that downsizing doesn't have to mean a retrograde step in quality, technology or safety.

"We knew that New Car Drop would be an ambitious project, and we also knew that SEAT would be the only brand young-spirited enough to even entertain the notion of hanging their car 35 metres above the cityscape of London."

There's never been a better time to buy a SEAT Mii, with the company making the stunning city car available from just £136 per month on a SEAT Solutions finance deal, with zero deposit – and free servicing for three years/30,000 miles.

Plus, every Mii Ecomotive, SE or Sport model bought between now and 31 December 2012 comes with a free SEAT Portable System, worth £275.