Mario and Lucy's romance is still flying high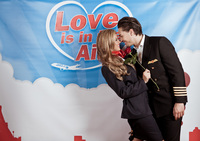 Love certainly looks to be back in the air for Mario Falcone and Lucy Mecklenburgh! TOWIE's hottest couple have rekindled their romance in time to launch the UK's first ever speed dating flights with Jet2.com.

The duo, whose tumultuous love life is currently gripping the nation, have set aside their messaging misery and teamed up with the North's leading leisure airline to search for eligible males and females to join them on two VIP flights of fancy. Over 200 sexy singletons will be whisked off to Paris on Saturday 17th November and Saturday 24th November, for the love trip of a lifetime.
Once in the city of l'amour, the local hotties' chat up skills will be put to the test in a spectacular speed dating session on a specially chartered Bateaux Mouches on the River Seine. The most popular male and female will each win a luxury five star escape from Jet2holidays for themselves and may even meet their perfect match on the trip. And with Mario and Lucy on board they certainly won't be short of flirty tips to tempt the opposite sex!
Commenting on these unique trips Mario said: "When we heard about Jet2.com's special dating flights we jumped at the chance to get involved. What better setting is there potentially to meet the love of your life than in the ultimate city of romance! We can't wait to jet off to Paris and help some of the nation's singletons find their dream partner."
Lucy added: "This is a once in a lifetime opportunity to find love so I'd urge all single men and women who think they are irresistible to put themselves forward for these trips today!"
If you are an eligible male or female, or if you want to nominate your mate as a top date, then email hottie[at]@jet2.com. Simply state why you think you deserve to be on Jet2.com's special 'love planes' and include a current image. Closing date for entries is midnight on Sunday 4th November 2012.
Steve Heapy, Chief Commercial Officer of Jet2.com said: "We're absolutely thrilled to be the first airline in the UK to launch exclusive dating flights. With the help of Mario and Lucy, they promise to be spectacular trips and I'd urge single people to get on board today. Who knows they may just be lucky enough to find that love is in the air!"
For people wanting to hone their chat up lines ahead of the trips Mario and Lucy have provided these top five tips:

Always start with a compliment – everyone likes to hear good things about themselves

Getting your potential date to laugh is a great ice breaker, but we don't recommend a knock knock joke as your opening line!

"Can I buy you a drink?" This is probably the oldest line in the book but more often than not it works perfectly for men AND women.

It might sound mad, but sometimes the corniest line works. "Did you hurt yourself when you fell down to earth from heaven?" is a good one.

If it's clear that the person you're trying to chat up isn't interested, politely move on. There's plenty more fish in the sea!