South Carolina resort offers eco-conscious real estate investment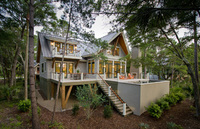 Kiawah Island, South Carolina, the preeminent residential resort community in the southeast United States, is offering a unique residential real estate investment opportunity for those committed to sustainable and eco-conscious living. Indigo Park, a neighborhood within Kiawah Island, has built the first two homes both of which have achieved LEED Platinum status, the highest level of residential green building commissioned by the U.S. Green Building Council. The project is part of a larger initiative to create the first LEED certified neighborhood within a residential resort.
Indigo Park, a collection of 16 residential homes, allows potential homeowners to not only choose a plot but also custom build their home using the highest-grade earth-friendly, sustainable materials that help reduce greenhouse gas emissions, lessen the impact on the natural environment, and foster low maintenance upkeep. For those who prefer a completed product, a number of floor plans exist that the design team can modify and build to suit. The completed floor plans range in size between 2,200 - 3,000 square feet with river views, private pools, guest cottages, and varying number of bedrooms and bathrooms. The starting price for a completed home is US $1.7 million, which includes a membership to the private Kiawah Island Club.
At the center of the project is developer Candace Dyal, owner of Dyal Compass, LLC, whose mission is to simply build with a conscience. Taking an unspoiled tract of land, Dyal created a master plan in which 16 plots would exist with minimal disturbance to the natural environment and incorporate a three acre community park for residents to enjoy.
For more information about Indigo Park or Kiawah Island Real Estate, visit Kiawahisland.com/real-estate/neighborhoods/indigo-park.