Yamaha's new FJR1300A makes an impression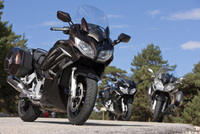 It has been said that those that are closest are the most critical. Yamaha then, made the confident move to follow the European press test for the new 2013 FJR1300A Sport Tourer, with a first ride for European owners clubs and for the UK, that meant that Phil 'Doc' Hacker, the president of the UK FJ Owner's Club, got a preview of the new bike on dry Spanish mountain roads, open highway and some fast A roads, just what the FJR was made for.

Phil was complimentary of the changes made to Yamaha's continental cruiser: 'It seems that Yamaha are getting their Mojo back and the New FJR1300 shows this. The combination of high quality finish, standard 'extras' plus new safety devices in a user friendly package added to the best proven Sports Tourer on the market is evidence of this. To top this it is actually cheaper than the older model it replaces. Trust me, it's a bargain!'

Simon Belton, Yamaha's Marketing Manager commented 'Phil had a great time riding the bike in Spain and it was really pleasing that he appreciated the changes to what was already a fine Sport Tourer. And with Yamaha's aggressive pricing plan for the model, to be announced at Motorcycle Live, we are expecting great things out of this model.'

Visitors can see both FJR1300A and its semi-auto, electronically suspended variant, the FJR1300AS, at Motorcycle Live to be held at the NEC from 24th November to 2nd December.