Ferrari Enzo leads 'prancing horse' parade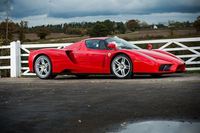 One of the world's most amazing supercars – a Ferrari Enzo – will be offered for sale by Silverstone Auctions at The Footman James Classic Motor Show.
It will be in very good company with no fewer than another eight models spanning four decades from the famous Italian stable also going under the hammer on 17th November at the NEC.
Nick Whale, managing director, Silverstone Auctions, said: "It is unusual for an Enzo to be offered for sale anywhere in the world so our auction is a rare opportunity to acquire one of the best Ferrari's of all time.
"The performance figures alone are mind-blowing as it is capable of 0-60mph is just 3.1 seconds and can reach a top speed of 221 mph. No surprise really though, as to justify using the founders name then the car had to be very special indeed."
The 2004 model being offered by Silverstone Auctions, just one of 400 left-hand drive examples made, is estimated at between £650,000 to £700,000. Finished in the best colour combination of Rosso Corsa with Nero leather upholstery, it boasts a normally aspirated 6.0 litre V12 engine, giving 651bhp and 485 lbs foot torque.
Other features include active aerodynamics, while it can produce 1,700 lbs of downforce at 186 mph, via the computer controlled rear wing.
"Ferrari Enzo's are highly collectable cars and rightly regarded as future long term investments by collectors, enthusiasts and Ferrari experts globally," added Nick.
Meanwhile, the other Ferrari models being offered by Silverstone Auctions represent some of the greatest examples produced by the manufacturer.
They include a 1971 Dino 246 GT, estimated at between £115,000 to £130,000, and one of only 498 supplied to the UK, a 1973 308 GT4 Dino, estimated at between £20,000 to £25,000, which has enjoyed a £40,000 no expense spared restoration, and a 1979 400 GT Coupe, estimated at between £10,000 to £15,000, possibly one of the most underrated Ferraris that money can buy.
From the 1980's there is a 1982 512i Berlinetta Boxer, estimated at £65,000 to £75,000, showing only 27,906 kilometres, and a 1987 208 GTB Turbo, estimated at between £20,000 to £25,000, and one of just 437 ever produced.
Moving forward some seven years and a 1994 512 TR, estimated at £50,000 to £60,000, takes centre stage. It is joined from the same decade by a 1997 front-engined 456 GTA, estimated at £35,000 to £40,000.
Last but by no means least is a 2001 360 Spider, estimated at between £39,000 to £42,000, which benefits from a very desirable manual gearbox
For further information about the Ferraris on offer, or for any of the lots at the auction, plus how to register and bid at the auction, visit silverstoneauctions.com.