Enjoy a Wildfitness adventure and bring your kids along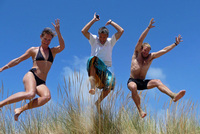 Wildfitness has announced that children are now welcome at all three of its destinations, enabling parents to focus on, and make the most of their fitness course with the added comfort of having their children nearby.
To ensure no disruption to other guests, Wildfitness has adapted each of its premises in Kenya, Andalucia and the Isle of Wight to include exclusive houses or wings which are reserved solely for families. These private spaces are ideal for those guests who want to bring their children, without compromising on their Wildfitness experience and the immersive approach of the courses which encourage guests to eat, move and live as nature designed.
In addition to the guests enrolled in the fitness course, the private family lodgings also provide enough space for parents, grandparents, a nanny, or another family member who will be able to look after the children while enjoying the beauty and tranquillity of the Wildfitness destinations. For parents travelling exclusively to Kenya, the Wildfitness cook will be on hand to prepare healthy, delicious meals for the whole family; while a dedicated helper will be available, depending on the number and age of the children.
For those looking for a healthy and original experience for the whole family, Wildfitness can also offer bespoke family courses for larger groups; a great option for families holidaying together who can team up to commission their own Wildfitness course. These tailored courses which provide kids-only, parents-only and joint activities ensure a fun group atmosphere with plenty of individual attention to motivate and energise the whole family.
Whatever your age or fitness level, the Wildfitness lifestyle philosophy based on nature and evolution will not only make real changes to your body but will also give you the tools for life-long health & vitality. Wildfitness holidays run in Kenya, Andalucía (Spain) and the Isle of Wight and are 3 days to 3.5 weeks in length.
To book or for more information, visit wildfitness.com.