The 007 effect sees sales of Bond fragrance on the rise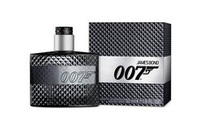 Superdrug is benefitting from the 'Bond effect' as the 007 James Bond fragrance is flying off the shelves since the launch of Skyfall.
Sales show that not only do men want to be James Bond they also want to smell like him. Since the latest Bond film Skyfall launched the retailer has seen sales of the 007 fragrance rise by 32 per cent (compared to the week before the film launch).
The retailer is ensuring more stock is rushed to stores to ensure that Bond fans who can't afford the other 007 essentials, such as an Aston Martin or Tom Ford suit, can get their secret agent fix for just 18.99.
Sara Wolverson, Superdrug Director of Beauty said: "We know our customers love to emulate the style of their favourite celebrities but who knew the dapper action hero that is James Bond would have such a great effect on our sales.
"It's not just this fragrance which is seeing the Bond effect, sales of male grooming products are also on the rise as men hope to look as smooth as Daniel Craig.
"But we are aware that the sales may be down to women snapping up the fragrance in the hope that a quick spritz may turn him indoors into their very own Bond."