Brazilian flair and indigenous style unveiled at Botanique Hotel & Spa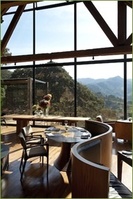 On 1 November 2012 in Campos do Jordao, Brazil - midway between Sao Paulo and Rio de Janeiro - a fresh, new retreat has made its debut. Botanique Hotel & Spa, a visionary project developed by a group of internationally revered entrepreneurs, sets the benchmark for design, services and above all, authenticity as it proudly showcases the Best of Brazil to the rest of the world.
A Visionary Project
Conceptualised by Ricardo and Fernanda Semler, Botanique Hotel & Spa has been created with the support of David Cole, co-founder of AOL, and Body Shop founder Gordon Roddick. Each of the founders have made an indelible mark in their fields of business and, as such, have contributed their expertise and innovative flair at each stage of the hotel's development. Brazilian entrepreneur Ricardo Semler is one of South America's most notable businessmen, pioneering industrial democracy as CEO at market-leading conglomerate Semco. His experience working with environmental and service-focused companies is now channeled into the hotel set up. Botanique Hotel & Spa is managed by an experienced hospitality team along with Fernanda's constant supervision of the concept and its roll out.
David Cole is best known for co-founding Internet business AOL but is also recognised for his philanthropy work, organic farming business and the five-star resort Twin Farms in Vermont. He brings expert knowledge of the great outdoors and luxury hotels to the project.
Social activist Gordon Roddick co-founded health and beauty empire The Body Shop with Anita Roddick and supported disadvantaged groups around the world through the company's famous community fairtrade programme for over three decades.
Together, as owners of Botanique Hotel & Spa, the dynamic entrepreneurial team has created a modern and socially responsible retreat that embraces Brazil's indigenous nature and mountainous vistas.
Each of the design elements at Botanique Hotel & Spa - from the choice of building materials to the interiors and unique services on offer - has been thoughtfully handpicked to offer guests a true insight into the Brazilian way of life. Commitment to Brazil's topography, native traditions, art and contemporary culture is realised through the founders' selection of an all-Brazilian roster of collaborators and contributors.
Striking Architectural Design
Designed by leading Sao Paulo architectural firm Candida Tabet Arquiteura, Botanique Hotel & Spa favours space and provides a tranquil environment for guests to switch off. The property is made up of six spacious suites connected to the main building and eleven private villas with up to 600m2 of private gardens scattered across 7000m2 of lush vegetation. The main building is the centrepiece of the property and houses a spectacular lounge, a cinema, a library with over 400 titles, all by Brazilian authors, and the hotel's fine dining restaurant Mina. To maintain the hotel's peaceful ambiance, a 1km non-motorized zone loops the property.
Locally sourced chocolate slate, mined just once every 17 months, along with three tonne boulders from the adjacent river have been used to create the hotel's bearing walls with huge glass panels forming the rest of the construct to evoke a sense of 'outdoors inside'. Other features include exposed steel and massive wooden beams reclaimed from 19th century farms in nearby Minas Gerais.
The restaurant building is dramatically perched on a mountain ridge for an uninterrupted 180? view of Campos do Jordao's valleys and mountains. The restaurant also includes an adjoining hillside terrace with natural awnings and a showpiece suspended fireplace for cozy evening dining.
Curated Interiors, Furnishings & Artwork
The country's top interiors experts, including curator and writer Adelia Borges, have curated each of the hotel rooms. Adelia is one of the best-known curators in the country and manages an interior design agency in Sao Paulo specialising in the production of design books, articles for the national press, lectures and exhibitions. At Botanique Hotel & Spa she skillfully brings together furniture and artwork, commissioned from 17 of Brazil's finest established and emerging designers, into one unique focal collection.
Furniture by Aristeu Pires: Canela-based furniture designer Aristeu Pires' crafted pieces feature significantly in Botanique Hotel & Spa's collection. A major player on the Brazilian furniture design scene, Pires' designs have accumulated an impressive worldwide industry following. One of his designs, the functional yet beautifully crafted Doris (as pictured) is made from solid wood and replaces a typical ottoman in the suites.
Art by Pedro Petry: Eco-designer Pedro has over 20 years experience creating furnishings and decorative objects from sustainable sources. His work often includes discarded materials such as timber and FSC certified wood. Many of his pieces adorn the rooms of Botanique Hotel & Spa and have been specially created to compliment the ethos of the project.
In keeping with the hotel concept, the experiences available at Botanique Hotel & Spa are also truly Brazilian in flavour. Guests can explore the densely forested landscape of Campos do Jordao on horseback with Olympic-standard horses from the hotel's own stables, practice the Samba or Brazilian Tango with a professional dancer or learn how to make the national cocktail Caipirinha.
All-Brazilian Spa & Wellness
The near 1,000m2 spa, designed by forward-thinking Sao Paulo architects Coletivo de Arquitetos, is spread across two floors decked with the indigenous tropical hardwood itauba. There are eight treatment rooms - four for wet treatments and four for dry treatments, relaxation suites, saunas, an indoor pool and an outside pool surrounded by a swimmable lake and resting area.
Botanique Spa is the first 100% Brazilian spa with products that contain locally sourced ingredients, including 28 essential oils for treatments. Many of the signature treatments and water-based therapies incorporate traditional Afro-Brazilian and native Indian healing and relaxation rituals while others are more modern in their approach. One such treatment is the floatation experience for which clients are immersed in a salt-water tub while a film with calming images of nature is projected onto the ceiling. The hotel also has a fully equipped gym and outdoor fitness pavilion with an exercise programme that includes Brazilian martial arts such as capoeira.
For more information, visit botanique.com.br.