Caterham adds Taiwan to global dealer network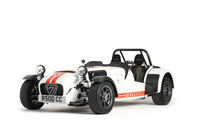 British sportscar manufacturer, Caterham Cars Ltd, has named OMA as its official distributor in Taiwan.

OMA, which specialises in prestige and sports vehicles, is based in Yuanlin Town, Taiwan and also has outlets in Taipei and Taichung.

Owned Darren Lo and with British ex-pat competition driver Alan Parkes as project leader, OMA is aiming to add another 50 car sales a year to Caterham's already strong export market, which represents around 55% of the Company's annual sales.

The dealer will introduce a range of Caterham products to the region, including premium models such as the top-of-the-range Superlight R500 and the brand new sports prototype trackday machine, the SP/300.R.

Caterham's Chief Commercial Officer, David Ridley, said: "Our appointment of a Taiwanese distributor for Caterham Cars is another part of the global expansion plan that started two years ago. Our market research indicates that there is an appetite in the Far East and we soon to open dealerships in China and India."

Parkes, 51, said: "As an Englishman, I'm proud to be representing the very British Caterham brand in Taiwan. I've raced, rallied and competed in drift series for over 30 years and I'm a grad A ARDS instructor, so I am keen to introduce Caterham's rich motorsport heritage to the market, as well as its unique product offering."

For more information about Caterham Cars, visit caterham.co.uk. For more information about OMA, visit o-ma.com.tw.