The best places to profit from Florida property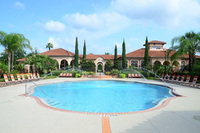 Miami condominium prices have risen 19.3% year on year (Source: Miami Association of Realtors). This is just one area where property investors can profit from Florida Property, according to Property investment company, Colordarcy.com.
Loxley McKenzie Managing Director of Colordarcy commented on this latest news, "This is quite a turnaround when we consider that the Florida property market was seen hurtling to the bottom back in 2008-09 with no end in sight at the time. Back then all the talk was about how could Florida and other bubble-hit states in the US ever possibly recover?"
According to property market analysts at Colordarcy, the reality is, that compared to Florida and many other US states showing growth, most countries in Europe are at least 2-3 years behind in terms of their property cycle.
This is not to say that every part of Florida is a property investor's goldmine. There are some areas that we can say are hot at the moment while there are others that are still rooted to the bottom.
So where is the sun shining on the Florida property market?
The city that has attracted the most attention in Florida this year is Miami. The median list price of Miami property has risen 11.6% year on year according to the latest data, a slowing of the pace that saw prices rising at a rate of 19.4% at one stage (Source: Miami Association of Realtors).
McKenzie added, "The big draw in Miami is sunshine and beaches and there have been plenty of cash-buying sun seekers from countries including Canada and Brazil who have moved in to take advantage of prices that are still well below their peak.
It is now possible to find downtown apartments in Miami for around $210,000 at a 50% discount, combine this with a market that is growing at a rate of more than 10% a year and Miami is an ideal option for cash investors."
For those seeking even lower prices, Tampa is another location that has seen growth of 7.1% year-on- year, which is respectable and offers investors a very good return on property that is roughly half the price of downtown Miami. Tenanted property in Tampa is on the market for as little as $64,000 - less than the price of Porsche Boxster.
Colordarcy advise those investors who wish to avoid the budget-end of the Florida property market, to consider Fort Lauderdale, where investors can invest in an apartment in a luxury resort for less than half the original asking price and get some change out of $130,000.
There are few mature markets in the world that offer such a strong combination of low prices and high growth that is being witnessed in Florida this year according to Colordarcy analysts. With housing stock still low, the indications are that this pattern will continue into 2013.
For more information, visit colordarcy.com.