Skate your way through Finland's lakes and seas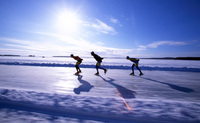 Tour skating is a great way to spend sunny winter days outdoors. Finland's Lakeland and the Baltic Sea around Aland are ideal for speeding through breath-taking national landscapes on a pair of skates.
Far more enjoyable than skating round in circles on a man made ice rink, tour skating covers long distances over natural ice and is a great way of exercising whilst enjoying the pure air of Finland and its unique scenery.
There are almost 200,000 lakes and a thousand kilometres of coastline in Finland and a tour skating season that spans from January to April, so there's no shortage of skatable ice and a long season to enjoy this exhilarating sport!
Savonlinna
Savonlinna is a gem of a town on the shore of Finland's biggest lake, the Saimaa. Skating on Lake Saimaa is at its best in the Linnansaari National Park, located just half an hour from Savonlinna.
On opposite edges of the National Park, in both Rantasalmi and Oravi, Järvisydän offers accommodation, equipment rental and guided tours.
In Punkaharju, a village by the Saimaa, Harjun Portti maintains a 15-kilometre-long skating track, and rents out equipment as well as cottages.
Tour skating in the Savonlinna area
Kuopio Area
The city of Kuopio lies by Lake Kallavesi, on the ice of which a skating track takes shape every winter. Open to all skating enthusiasts, the highlight of the tour skating year is Finland Ice Marathon.
During the Ice Marathon – its 30th edition this year – a number of side events like moonlight skating and children's skating also take place. The café at Kuopio harbour will keep skaters refreshed through the day.
Aland
Aland, an autonomous cluster of Finnish islands in the Baltic Sea, is a superb but rather unpredictable tour skating destination. As there are no inland waters in Aland, all skating takes place on sea ice and is dependent on the weather being kind to skaters!
But when it's good, it's great! There's hardly ever any snow on the ice, which means no tracks and being able to skate anywhere you want. The spectacular experience of cruising the beautiful archipelago on a pair of skates is something that just has to be felt – no description does it justice.
Themed routes are a unique feature in Aland. Try the cultural tour from Kastelholm Castle to the fortress ruins in Bomarsund, for instance.
Tour skating in Aland
Note: Tour skating is a fun and perfectly safe activity. However, unless you're an experienced skater and familiar with the route you'll be taking, never head out alone.
For further information, see visitfinland.com.