Kia confirms pro_cee'd GT and cee'd GT variants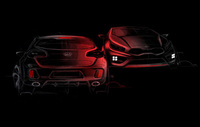 Kia's first high performance models, the three-door Kia pro_cee'd GT and the five-door Kia cee'd GT, will go on sale in mid-2013.

The two new GT models will be powered by a new version of Kia's 1.6-litre GDI (Gasoline Direct Injection) petrol engine equipped with a twin-scroll turbocharger and strengthened internal components. Power and torque outputs are dramatically increased. Maximum power is 204 ps (201 bhp), up 51 per cent over the non-turbo engine, with torque up 61 per cent to 265 Nm (195 lb/ft).

Fitted with a six-speed manual gearbox, the new models' performance targets include 0 to 62 mph acceleration in just 7.9 seconds.

Significant developments to the chassis and suspension systems will ensure that the performance credentials of these more powerful models are matched by exceptional dynamic characteristics.

To stand out from their sister cars, Kia's pro_cee'd GT and cee'd GT models will incorporate unique features that highlight the more emotionally-charged driving experience that they offer.

New grilles and lamp clusters, deeper bumpers, unique 18-inch alloy wheels, red brake calipers and special paint finishes will result in a striking, more purposeful exterior. The look of the GT models is also distinguished by pairs of jewel-like, four-point LED daytime running lights, which give added character and presence, as well as aiding safety.

For the interior, the addition of Recaro sports seats, alloy pedals and bespoke surface materials will create an engaging, performance-oriented ambience for the driver and passengers.

Production of the Kia pro_cee'd GT and cee'd GT is scheduled to begin at Kia's facility in Žilina in mid-May 2013, with cars on sale across Europe from mid-year. Prices and specifications will be confirmed closer to the on sale date.