LG's 84-inch Ultra High Definition TV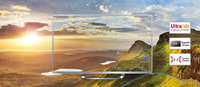 LG has launched its pioneering 84-inch Ultra High Definition TV at The Gadget Show Live, making the 84LM960V the first of its kind in the UK.
LG's 84-inch Ultra HD TV offers a truly stand-out home entertainment experience, with a screen size that promises totally immersive viewing and four times the resolution of existing Full HD TV panels, for astonishing picture quality.
LG continues to be at the forefront of industry innovation and it is the brand's market leading technology developments, such as Triple XD Engine, that makes it possible to produce the breakthrough 84-inch Ultra HD TV. The TV also boasts LG's latest features and functions, including its award-winning Smart TV and Cinema 3D technology. LG Resolution Upscaler Plus feature then allows standard or high definition images to be rendered in higher detail to ensure a better viewing experience no matter what you're watching.
"We are proud to be the first to offer UK consumers Ultra High Definition technology for their homes, with our 84-inch LM960V that is as impressive in functionality as it is in size." said Stephen Gater, CE Consumer Marketing Director. "It wowed the audiences at IFA, and representing every advanced technology that we are proud to offer as a TV manufacturer, we are confident that it will capture the imagination of the UK public as they get to see it up close for the first time."
The LG 84-inch Ultra HD TV offers a number of new smart features with the aim of providing greater convenience and even simpler usability. LG's Magic Remote Control allows users to intuitively access and navigate the Home Dashboard of LG's award-winning Smart TV ecosystem. Now containing a host of premium content services, such as LG's leading film-on-demand apps including subscription and pay-per-view services LOVEFiLM, Acetrax, Netflix, Blinkbox and Knowhow movies as well as catch up TV from BBC iPlayer.
Further media content can be accessed via portable devices such as laptops, mobile phones, tablets and flash memory drives using Smart Share Plus. The embedded LG 2D to 3D conversion engine expands the availability of 3D content and Dual Play takes head-to-head game play to a whole new level by allowing opponents to simultaneously see different images on the same screen.
Bringing this exciting new experience to the 3D entertainment arena, LG has equipped its Ultra HD TV with CINEMA 3D technology to ensure the impressively large display provides the most immersive and comfortable viewing experience possible. 3D Depth Control allows viewers to fine-tune the "distance" between near and far objects on the screen for a custom 3D experience. The 3D Sound Zooming feature then analyses the on-screen objects to generate sound according to their location and movement.
LG's Ultra HD TV also features a 2.2 Speaker System consisting of two 10W speakers and two 15W woofers, which reinforce the sound to bring the cinema experience home.
This iconic product will be available in over ten stores across the UK and Ireland by Christmas - including John Lewis Sloane Square, Bentalls Kingston, Richer Sounds Southampton - with further retail roll out in the New Year. Consumers will also be able to experience the World's first 84-inch Ultra HD TV, along with other award winning LG Smart TVs, at LG's product road show as it tours the UK which will include special offers.
The Gadget Show – London Excel
30th Nov – 2nd December 2012
Bullring – Birmingham
7th – 9th December 2012
Westfield Stratford – London
13th – 15th December 2012
The Trafford Centre – Manchester
21st – 24th December