Ford Focus ST estate declared Top Gear's Hot Hatch of the Year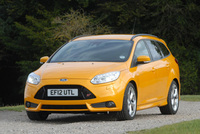 Top Gear magazine has crowned the Ford Focus ST estate Hot Hatch of the Year in its January edition out today.

In reaching the verdict, Top Gear took the 250PS Ford Focus ST to Russia, where the roads in and around Moscow proved the hot hatch's combination of everyday practicality with scintillating performance in all conditions – even the Russian winter.

"Despite knobbly winter tyres, this front-drive, estatey hatch with no mechanical diff simply won't understeer," wrote Top Gear's Matthew Jones, who drove a Colorado Red example 300 miles between Red Square and Chekhov.

"This isn't an official metric, but in mildly moist conditions it'll corner until the passenger window gets smeared with a photographer's face. The ST estate really is a car for every mood, journey and road.

"It's a beautifully set up car, and when conditions allow, it's nothing but breathy, with progressive acceleration, comfortable but pin-sharp steering, and incorrigible handling. And the estate gathers up the best bits of so many niches."

On sale in both estate and five-door bodystyles since July, almost 1,600 have sold – representing five per cent of overall registrations for the Ford Focus, which is the UK's second best-selling car behind the Ford Fiesta. Ford Focus ST outsells the Golf GTi by more than two to one.

The 154mph estate, capable of 0-62mph in 6.5 seconds, is Ford's first global performance car. Yet its turbo-charged, direct-injection 2.0-litre EcoBoost engine returns 39mpg while delivering CO2 emissions of 169g/km.

Mark Ovenden, Ford Britain managing director, said: "Our new and exciting Ford Focus ST estate breaks the hot hatch stereotype, which can mean compromising on space and everyday comfort. Top Gear recognised that the ST estate delivers on practicality and performance – as well as on price."

The new Ford Focus ST range starts from £21,995 for a five-door and £23,095 for an estate.