Celebrate a marriage at The Beach House at Iruveli Maldives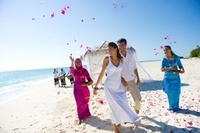 For a romantic backdrop to celebrate a marriage or renew weddings vows, then a white-sand beach overlooking a turquoise-blue sea in the paradise islands of the Maldives makes for a truly stunning location. Add to it a five-star boutique resort where each of the luxury villas and suites come with a private plunge pool, sprinkle with discreet world-class service and the result is the beautiful The Beach House at Iruveli Maldives.
Continually voted the World's Most Romantic Destination in the World Travel Awards, it's no wonder that many couples choose the Maldives to celebrate their marriage or renew their vows. The Beach House at Iruveli Maldives promises an unforgettable wedding experience with ceremonies taking place on the beach or the Love Pavilion. For those who would like to embrace the local culture, there's even a Maldivian-style blessing available with traditional wedding outfits provided.
It's not just new brides and grooms that are catered for; those who want to reaffirm their love can choose a renewal of vows ceremony and a chance to say "I do" once more against the stunning Indian Ocean backdrop.
For a more unusual, yet totally romantic setting, there's a private desert island on which to have a Robinson-Crusoe-style ceremony. The special Castaway Blessing package starts the day before the ceremony with spa treatments for the couple including a relaxing massage followed by an aroma flower bath.
Wedding transport is in the form of a traditional dhoni boat and the bride and groom have the whole island to themselves while the ceremony takes place. A bottle of Champagne follows the blessing, then it's time for a private sunset dhoni cruise, which culminates in a romantic four-course candlelit dinner on the beach. The next day, there's a Champagne breakfast in bed and the chance to view the digital wedding album.
Ceremony prices start from US$1,150, and all include a villa host to co-ordinate the blessing, a master of ceremonies, decoration of altar, Maldivian Bodu Beru players, a wedding certificate and a decorated wedding bed.
The Beach House at Iruveli Maldives comprises 83 beautifully designed thatched villas, suites and pavilions, each with a private pool and villa host. Three fine dining restaurants boast a gastronomic experience rich in culinary diversity and include a unique dining opportunity in an underground wine cellar, housing one of the most extensive collections of fine vintages in the Indian Ocean. Facilities include an extensive spa, five-star PADI dive centre, 18-hole golf simulator, fitness centre and three swimming pools.
For more information, visit beachhousecollection.com.