Centenary celebrations of the first ascent of America's highest mountain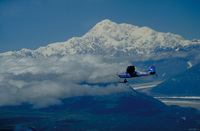 Next year, 2013, marks 100 years since the first successful ascent of America's highest mountain, Mount McKinley, in Alaska's Denali National Park. To mark this milestone anniversary, Alaska will be celebrating throughout the year with exhibitions, festivals and special tours, making the summer months of 2013 an ideal time to book a trip to Alaska. Travel will also be made easier next year with a new summer route from Icelandair, with travel from the UK taking only 10 hours to reach Alaska.
Mount McKinley was first climbed by British explorer Hudson Stuck and Americans Harry Karstens, Walter Harper and Robert Tatumin June 1913; an incredible feat as, at 20,320 ft, McKinley is the highest mountain in North America and one of the highest in the world. Although the mountain is Denali's centrepiece, it is just one highlight of the vast park which covers six million acres and is a haven for extreme sports seekers, those looking for relaxing hikes and bike rides and wildlife spotting opportunities.
Planned celebrations for summer 2013 include the University of Alaska Museum in Fairbanks opening a National Park exhibition and the local community of Talkeenta hosting a climbing symposium.
Outlined below are the best ways to explore Denali National Park:
Climbing Mount McKinley
Keen climbers wanting to tread the same routes as the brave explorers in 1913, can book a climb for the 2013 summer climbing season, when weather conditions are suitable to reach the mountain's highest point. Adventure Peaks (adventurepeaks.com) runs a 27-day trip, including preparation time, with 17 days of climbing following Denali's West Buttress route, which offers a challenging ascent of 50 degree snow slopes and an ice headwall. Climbers should be proficient in basic mountaineering skills, including cramponing, walking on snow, self arrest, crevasse rescue training and glacial peak climbing. The trip costs from £5,395 per person including Alaskan guides, food, fuel, tents, kit bags and cooking equipment, return flights from the UK, internal flights, transfers in Alaska and medical safety equipment. The trips are available from the end of April through to the end of June.
Flightseeing tour over Denali National Park
Those looking for something a little less strenuous but who still want spectacular views can join the 'Mount McKinley Peak Experience Tour' from Denali Flightseeing Tours (denaliair.com). The hour long plane ride, in which all the seats are window seats, takes passengers on a flight around the mountain offering views of the highest peaks, the mountain's glaciers, the well known 14,900 ft high Wickersham Wall and the 3,000 ft deep Ruth Glacier. During the climbing season, passengers will see climbers at base camp and ascending the mountain. The pilot will offer professional commentary on individual headsets. Prices start from £217 per adult and £108 per child (under 12).
White water rafting
The best way to descend Denali's mountains and see the stunning views is by white water rafting, whether it be a tranquil or adrenalin fuelled ride. Denali Raft (denaliraft.com ) offers a number of rafting trips including scenic half day trips, which cover 24 miles of meandering river and cost £88 per person and the Canyon Whitewater Run which covers 11 miles of fast rapids such as 'Cable Car' and 'Ice Worm' and costs £55 per person. The trips run from May to September.
Exploring the park by foot and ATV
Seeing Denali by foot can be challenging as the park has few set trails and hikers must travel cross country. Alaska Alpine Adventures (alaskaalpineadventures.com) offers a four day hiking trip through the park. Starting with an exciting sea plane flight from Anchorage to Denali, the group will be dropped off at Moraine Lake in the heart of the park. From there, they will be taught how to hike in the Alaskan wilderness by experienced guides, crossing glaciers and navigating their way around whilst spotting wild animals along the way. The trip is available from June to September and costs from £1,182 per person including hiking gear, travel in Alaska, the sea plane ride, professional guides and all meals.
Thrill seekers can take an ATV tour under the Midnight Sun, to explore the park in true Alaskan style. The two-hour trip offered by Denali ATV (denaliatv.com) takes guests for a wild ride through the park to a viewpoint for watching the sun bob along the horizon before it rises again. The trip is available throughout June 2013 and costs £65 per person.
Wildlife spotting trip
Denali offers incredible wildlife spotting opportunities ranging from grizzly bears, caribou and moose to marmots and the bald eagle. Kantishna Air Taxi (katair.com) runs day trips giving visitors the chance to see wildlife from the air and the ground. Six-passenger planes transport visitors from the Denali park entrance to Kantishna, providing a good viewpoint for spotting groups of larger animals such as bears and moose. From Kantishna, the group is taken on a six hour ride through the park, perfect for looking for smaller animals and taking photos. The trip costs £150 per person including the flight, transport on the ground and the park entrance fee.
Getting there
From 15 May to mid-September 2013, Icelandair will run flights twice a week on Sundays and Wednesdays from London Heathrow to Anchorage via Reykjavik. Prices for return flights start at £720 return and can be booked at icelandair.co.uk.