New Kia Sorento wins special award from Total 4x4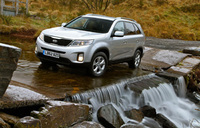 The new Kia Sorento has picked up its third Total 4x4 magazine award in a row with a special award for being the "Most Improved" contender.

Launched in the UK and Europe in September, the Sorento has a long list of improvements including a new platform, revised engines, enhanced interior quality and a smarter, more modern look.

Total 4x4 have twice previously given the Sorento top honours in the "Full-Size" category, but this year it just lost out to the all-new Range Rover.

Editor Alan Kidd said: "The Sorento has won its class in each of the last two years, beating a whole range of premium opposition in the process. This year's upgrades move it closer than ever to becoming a premium SUV itself; we didn't have many criticisms of the old model, but Kia has addressed every single one of them.

"The Sorento was already one of the best 4x4s on the market; now it's better than ever, and by a long way. Nothing less than an all-new Range Rover could stop it from completing a hat-trick of class wins, and that says a lot about just how good Kia has become at making world-class 4x4s," he added.

Kia Motors (UK) Limited President and CEO Paul Philpott responded: "Sorento has won friends and plaudits throughout its history and we knew just how improved the all-new version is. I am delighted that Total 4x4 continue to agree with us and I don't even mind the fact that it takes something as remarkable as the highly-praised new Range Rover to see us unseated from that top spot.

"Kia's commitment to developing, designing and producing real cars for real people is unquestioned – so I know we shall be looking to win that crown back. And soon!" he added.

The Sorento range comes only with a 2.2 litre turbo-diesel engine and a host of emission-reducing and fuel-stretching features. Available with a choice of manual or automatic transmissions and seven seats as standard the Sorento range starts at £26,495. Kia's industry-leading, fully transferable seven year warranty is also a standard fitment and owners can fix their running costs three years servicing and MOT for just £379.

For full details on the all-new Sorento range go to kia.co.uk.