New Fusion Fitness Holidays for 2013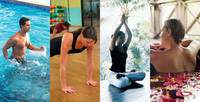 Kick-start 2013 with a flexible approach to fitness. Health and Fitness Travel, experts in tailor-made active and wellness holidays worldwide launch their new Fusion Fitness Holidays created exclusively for clients looking for the perfect tailor-made luxury fitness holiday. Choose your ideal destination from the Far East to the Caribbean.
Select 4, 7 or 10 personalised 1-on-1 activities, lessons and treatments from a blend of four fusion elements that include; Cardio, Strength & Sport, Mind & Body and Renewal. Fusion Fitness offers you the flexibility to choose your favourite health and fitness activities to suit your goals and interests, and combine them together to create the perfect holiday. In addition, enjoy the freedom of attending group exercise classes and activities, or simply relax in beautiful and idyllic surroundings. Focus on a fun, rewarding and motivating programme with leading health and fitness experts who offer advice and guidance throughout your holiday.
Paul Joseph, Co-founder of Health and Fitness Travel, says "Our new Fusion Fitness holiday range was developed for clients wanting a more flexible approach to their fitness holiday so they can choose exactly what they want and create their ideal programme, for maximum results and enjoyment. These holidays can be a great way to reset the body, learn a new approach and develop good habits to bring home. Combine the fun of travel with fitness focused activities such as yoga, beach boxing and hiking at some of the best wellness retreats in the world."
Fusion Fitness holidays focus on the following four fusion elements to build your programme:
Cardio
Increase your metabolic rate and choose from activities ranging from running, power hiking, dance, kick-boxing and circuit training.
Strength & Sport
Focus on your strength or simply enjoy your favourite sports. Choose from activities ranging from strength training, kite-surfing, cycling, tennis and golf.
Mind & Body
Unwind and focus on your mind and body. Choose from yoga, Pilates, meditation, Tai Chi or Qi Gong.
Renewal
Soothe tired limbs and relax with a choice of spa treatments ranging from Ayurveda to body scrubs, massages and specialised facials.
Fusion Fitness holidays start from £799 per person for 4 nights. For more information, visit healthandfitnesstravel.com.