Feel the beauty with Bravia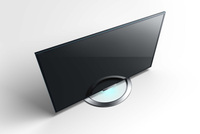 Feel the beauty, emotion, drama and excitement of every moment with this season's best-ever Bravia line-up from Sony. Stunning pictures and soul-stirring sound come together in an immersive TV experience that's never been more real. Enrich your viewing enjoyment and effortlessly control Bravia with your smartphone or tablet. Add a subtly powerful presence to any living space with Sense of Quartz – the dramatic new direction in TV design that enhances your entire entertainment experience.
Go beyond HD with detail that's never been more real
Once you've seen it there's no going back. Immerse yourself in an incredible world of 4K images by Sony, packed with extraordinary detail that's just like real life. The powerful 4K X-Reality PRO processing engine lets you enjoy all your favourite content in detail-packed 4K resolution – from Blu-ray Disc and TV broadcasts to web videos. With all content upscaled to four times the resolution of Full HD (actual resolution 3840 x 2160 pixels), 4K transforms your viewing experience as you've never dreamed before.
Following the release of its highly acclaimed 4K LED TV in the world's largest 84" class, Sony expands its line-up through the phased global launch of 65" and 55" X9000A series 4K LED TVs.
Best-ever picture quality, whatever the source

Whatever you're watching, the latest X-Reality PRO engine analyses, cleans and refines images, carefully matching pixel patterns against its huge database. You'll get the best from any picture source – from movies to low-resolution smartphone clips.
A wider world of richer, purer colours
Unique to Sony, new TRILUMINOS Display enriches your viewing with an even wider palette of rich, ultra-real colours, including hard-to-reproduce reds and emerald greens. From shimmering seascapes to flowers and lush, rolling meadows – everything's more vivid and satisfyingly real. Skies are bluer, and faces look better with subtle, natural skin tones.
By integrating QD Vision's "Color IQ" optical component with Sony's unique display technologies, this television set achieves significantly wider colour gamut, that provides a far more natural and vivid viewing experience with a heightened sense of depth.
Soul-stirring sound you'll really feel
Sony's unique Signal-to-Sound architecture makes every moment more real – from the roar of a packed stadium to the quietest whisper. Advanced processing technology restores, optimises and refines audio signals for sparkling music and dialogue that adds an extra thrill to all your viewing.
Just one touch: make the connection with your phone or tablet
The new Bravia Line-up is smarter than ever, coming together with mobile devices to create a seamless entertainment experience. Browse schedules, record shows and explore related content with TV SideView, the intuitive new app for your Android or iOS device. Touch your NFC-compatible Xperia smartphone briefly against One-touch Remote, the NFC embedded simple TV remote to effortlessly establish a wireless connection. Then 'mirror' your phone on Bravia: it's a great way to enjoy photos, videos, games and apps on the big screen with fabulous colour and detail.
Sense of Quartz - beauty and intelligence combined
Open your imagination to Sense of Quartz, the subtly powerful new direction in TV design by Sony. Timeless geometrical forms are fused in harmonious balance, with the monolithic quartz-like rectangular panel floating over a circular base that expresses purity and simplicity. They're united by an intelligent 'core', responding to your commands with a softly coloured glow immediately beneath the Sony logo on the TV's bezel.
This season's stunning new Bravia range will be available in Europe from April 2013, and the X9000A series from July 2013.