5 great Canadian day trips by rail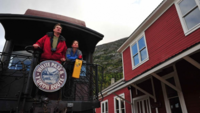 For train enthusiasts, the consummate rail journey in Canada is the Canadian – a trip from Toronto to Vancouver that traverses 4,345 km (2,700 miles) in four days, showcasing everything from immense boreal forests to the Prairies and the peaks of the Rockies. But not every traveller has time for a transcontinental odyssey. These day trips allow you to experience the romance of the Canadian rails, soak up some great scenery and maybe even get back in time for dinner.

Sea to Sky Climb, British Columbia
Running from Vancouver to Whistler, this luxury trip aboard the Rocky Mountaineer takes passengers along island-studded Howe Sound before climbing into the snow-capped Coast Mountains. Opt for seats in the domed car for panoramic views of waterfalls, canyons and turquoise rivers – a true glimpse of the wilds of Western Canada. Runs: mid May to late September. Duration: 3.5 hours, one-way.
Yukon Adventure
Built in 1898 during the Klondike Gold Rush, the narrow-gauge White Pass and Yukon Route is an engineering marvel through the mountains of Canada's far north. The 109-km (67.5-mile) rail adventure takes passengers from sea level in Skagway, Alaska, high up to the 879-metre (2,885-foot) White Pass Summit, then down to a restored 1903 station and on into Carcross, Yukon. Expect glaciers, waterfalls, cliff-hugging turns and unforgettable mountain scenery. Runs: late May to late August. Duration: six hours, one-way.
Agawa Canyon Tour Train, Northern Ontario
This 183-km (114-mile) excursion transports passengers north of historic Sault Ste. Marie, originally settled by French missionaries and fur traders, and into the forests of the Canadian Shield – a dramatic landscape of lakes, rivers and granite rock formations. The highlight is the dizzying 153-metre (500-foot) plunge to the floor of Agawa Canyon, where travellers disembark to explore waterfalls and scenic overlooks. This trip is particularly popular in autumn to see the fall colours. Runs: late June to mid October. Duration: 10 hours, round-trip.
Polar Bear Express, Northern Ontario
This passenger train serves as a vital artery between the communities of Cochrane, Moose Factory and Moosonee in remote northern Ontario. For travellers, the 299-km (186-mile) route offers stark scenery, a fascinating glimpse into local First Nations culture and an experience well off the beaten path. Keep in mind that creature comforts aboard are limited and actual polar bear sightings are rare. Runs: year-round. Duration: 5.5 hours, one-way.
Le Train du Massif de Charlevoix, Québec
Traversing cliffs, fjords and bays along the St. Lawrence River, this 140-km (87-mile) journey takes passengers from Québec City to the 200-year-old resort town of La Malbaie in the historic Charlevoix region. Multi-course gourmet meals highlight local fare as colonial river settlements, towering waterfalls and teeming wildlife reserves slide by outside. Runs: January to mid October. Duration: 12 hours.
By Remy Scalza (Courtesy of the Canadian Tourism Commission)
For more information, visit Canada.travel