Yves Rocher's So Elixir Purple fragrance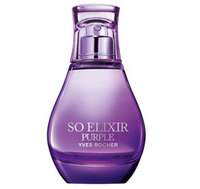 A So Elixir woman is multi-faceted and unique. She embraces the unexpected, constantly reinventing herself. She loves power, freedom and energy. She plays like a man, but with the weapons of her femininity. She embodies boldness, modernity and the glamour of genuine conquests.
Fascinated by this diversity, Yves Rocher's master perfumers decided to dedicate So Elixir to these women, with a new fragrance; So Elixir Purple, which is both complex and illusive. Created by Marie Salamange, especially for Yves Rocher, So Elixir Purple relies tempting fragrance notes to present a combination that is classified as a "woody floral" one.
At the heart of this fragrance, a flower unlike any other: Tuberose. Its addictive fragrance components are tinged with honey, jasmine and orange blossoms captured at their peak in the full summer sun. This flower is rich and captivating with its facets that are all once fruity, milky, honeyed, orangey and jasmine kissed. Its infusion leaves behind a magnetic and addictive note.
To accompany it, a masculine note of Vetiver. Employed for centuries in its purest form as an agent to encourage relaxation, vetiver gives a unique, delightful fragrance that is at once earthy and rich, with a hint of lemon. This scent is one of contrasts: in turn raw and warm, dry and mellow, earthy and smokey. Its essential oil adds elegance and a lively spirit to the fragrance. Just smokey enough, it blends with the essence of bergamot in a wildly vibrant floral-woody accord.
The scent of bergamot is sparkling and lively. Its essential oil offers a surge of freshness and radiance that illuminates the fragrance.
Finally, the Benzoin plays in a vanilla-kissed tandem with Patchouli, making it sensual and deep, providing warmth and rich sensuality.
The So Elixir Purple eau de parfum derives many of its central woody highlights from its patchouli ingredients. Marie Salamagne, the perfume's creator, was after a glamorous scent that leaves a noticeable waft of spicy florals in its wake, one you want to re-experience, and one you want to follow. Patchouli exhales an enveloping scent, a blend of wood mixed with the richness of fertile land.
This deep, seductive, and complex scent is being released as an Eau de Parfum. Fans of the fragrance will be able to purchase an accompanying perfumed shower gel, a perfumed body lotion, a perfumed deodorant, and a handy purse spray for 'on the go'.
For more information and to discover the full range of So Elixir Purple, visit the Yves Rocher site at yves-rocher.co.uk.