Yamaha offers choice for 3DLD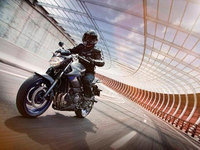 With the introduction of the EU 3rd Driving Licence Directive (3DLD) on 19th January, Yamaha is keen to let new riders know that a more complex licencing system does not necessarily make your choice of motorcycle or scooter more complex. With one of the most comprehensive model line-ups available, Yamaha has a two-wheeler to suit all licence categories from the AM moped up to the Full category A licence.

The important difference with the 3DLD is highlighted by the introduction of the new A2 licence category, which is characterised by a maximum power output of 35kW (46.6hp). But choosing the A2 licence doesn't mean you have to compromise on your choice of motorcycle or scooter. With four 660cc powered motorcycles and three maxi-scooters that meet the A2 licence requirements in standard form, Yamaha can also count the fantastic 600cc, inline, 4-cylinder powered XJ-series machines and the XVS950A cruiser in its offering (in restricted form).

The well proven XJ-Series and laid back XVS950A are now available from your local authorised Yamaha dealer in a new 35kW (46.6hp) restricted format at no extra cost*, meaning the stunning new Race Blu colour ways or some polished chrome can still be a reality for you. What's more, the new 35kW restrictor kits can also be purchased separately for fitment to pre-owned XJ-Series and XVS950A models.

For more details on the 3DLD, what it means for you and the Yamaha models eligible for each category, visit the Yamaha website at yamaha-motor.co.uk.

*35kW Restrictor kits are only supplied free of charge with brand new 2012 & 2013 XJ-Series and XVS950A motorcycles purchased from an authorised Yamaha dealer.