Detroit - for the ultimate ethical investment opportunity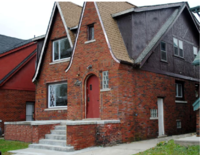 With sales and prices on the increase, and the number of British investors looking to buy a property in the US on the rise, now is the time to invest in the distressed markets in US cities like Detroit according to investment agency, Crystal Investment and Real Estate.
Luke Smith, Managing Director of Crystal Investment and Real Estate comments: "With properties from around $35,000-$45,000, which is up to 60% below market value, and with over 9,000 people on a government approved waiting list for a rental home, now is the time to seriously consider investing in Detroit. Our investments are currently achieving rental yields of up to 25% NET of all charges and have a year's guaranteed rental income making properties in the largest city in the state of Michigan some of the best property investment opportunities in the world."
Luke continues: "Properties in Detroit not only offer a great investment opportunity, but they provide a chance to help thousands of working families to find a clean, safe, affordable home. As a perfect win, win for everyone, these investments are backed by the US government who pay up to 70-90% of the rent. Monthly rental income is paid to the investor through the government Housing Choice Voucher scheme which ensures tenants get quality, maintained and affordable housing and landlords get a quality tenant who wants to live and take care of their property."
First time investor Brenda Sherrell purchased a four bedroom property in Detroit through Crystal earlier this year with a view to passing on the property to her daughters and grandchildren at a later stage. Brenda comments: "Fed up with the bank's low interest rates, I decided it was time to put money into property. Initially I began my search for a property in Florida but soon realised that the maintenance costs involved were too high."
Brenda continues: "A friend of mine then suggested looking at Detroit as he had investments there. To be honest, I didn't know where to begin as it was my first property investment overseas. After much research on the internet, I made contact with Crystal. They offered me a 'no hassle' investment opportunity which meant I could literally just sit back and let them deal with it all. I have already seen some return on my investment and am hoping that I will be able to purchase another property in the future."
As home to 5.4million people, Detroit has been massively affected by the economic downturn. This has resulted in a huge number of repossessions and foreclosures in the city over the past few years, which resulted in a massive shortage of affordable housing. Providing an ideal investment opportunity, cash investors can now buy 3 to 6 bedroom detached houses located in stable working class communities. These properties are either already tenanted or on a government backed waiting list of over 9,000 people who are desperately in need of a suitable house.
Unsurprisingly, according to the latest report from Rightmove Overseas, the number of British house seekers searching for a property in the US is on the rise. In October, US property generated the most traffic with low priced investment opportunities, such as pre-tenanted apartments attracting a new generation of UK investors.
This up-surge in interest in the US property market from the British population indicates a great market value in the US. This is backed by reports from the latest Zillow Home Value Index in October that US home values continued to rise, by 1.1% from September to an average of $155,400, which is the largest monthly increase since August 2005. Further data from the National Association of Realtors revealed that the national median existing home price was 11.1% above a year ago, now making it $178,000. This increase is the eighth consecutive monthly year on year increase, which has not occurred since October 2005 to May 2006.
Crystal Investment and Real Estate currently has a great range of three to five bedroom detached homes available between $35,000 and $45,000 inclusive of all closing costs. Situated in main catchment areas, near to schools, shopping centers, freeways, hospitals etc. all units are clear of all debt and have undergone extensive refurbishment work. All properties are fully tenanted with government vetted section 8 tenants and all come with Title insurance guaranteeing clean, debt free title to the investor. We do not offer properties in the high crime down town areas of central Detroit. Purely the well maintained leafy suburbs.
For further sales information about investment opportunities currently available through Crystal Investment and Real Estate, visit investmentandrealestate.com.