Five top challenging walks on the Coast Path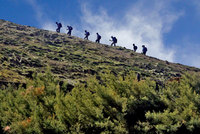 The start of a New Year is the perfect time to set fresh fitness goals – and what better way to get healthy and challenge yourself at the same time than with a hearty hike along one of the world's best walking routes, the South West Coast Path? Whether you want to tackle a short but demanding section, or take on the whole 630 miles, there's a walk out there for all ages and levels of ability, and unlike the gym, you won't have to pay a penny. Be warned, though – it is seriously addictive!
Here's a round-up of the top five challenging walks on the South West Coast path for 2013, which can all be downloaded at southwestcoastpath.com/challenges
Langdon Hill, Golden Cap (above) & St Gabriel's Chapel walk, Dorset (4.3 miles)
Here's one to get the heart pumping – the challenge is to reach the summit of the 191-metre Golden Cap near WestBay in Dorset, the highest sea cliff in Southern England. Some steep ascents and descents, rewarded by spectacular coastal views.
The Hangmen Hills, Exmoor (4.7 miles)
A challenging but inspiring walk on the highest point on the Exmoor coast that amply rewards the effort involved, with far-reaching views over coast and hills, through an area rich in history.
Sennen to Coverack, Cornwall (56 miles)
A stunning five-day itinerary along wild and windswept Cornish cliff-tops. This walk passes spectacular granite rock formations around Land's End, the most westerly point in England, and Lizard Point, the most southerly.
Heddon's Mouth, Somerset (2.1 miles)
A challenge for those with limited mobility – made easier with a Tramper all-terrain mobility scooter which can be hired from the National Trust at Heddon Valley and used to explore many of the paths in the area.
630-mile experience The South West Coast Path is perhaps the UK's ultimate challenge for the long-distance hiker. A fast walker can complete the 630 miles from Minehead in Somerset to Poole in Dorset in around 30 days, but a more leisurely pace is between seven and eight weeks. No matter how long it takes, it is a stunning achievement. The height gained and lost is the equivalent of climbing Mount Everest 4 times!

Set yourself a challenge and join the Great South West Walk from April 3rd to 7th May 2013! This event is to celebrate the South West Coast Path Association's 40th Anniversary with a series of 56 sponsored walks to cover the whole 630 mile long path, each guided by a local expert. Sign-up to one or more of these by 17th February to benefit from a range of special offers on accommodation and holiday packages. Walks vary from 3 to 18 miles, so you're sure to find one that suits to achieve your own personal challenge. greatsouthwestwalk.co.uk.
For further information about events and special offers on the South West Coast Path, sign-up to the newsletter or follow the blog at iloveswcoast.com.