Follow in the footsteps of Pi on a journey of discovery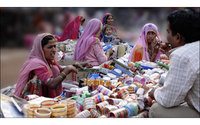 With the film of Life of Pi nominated for an impressive 11 Academy Awards, including best picture, Travel Indochina is preparing to welcome a fresh wave of travellers on its newly-extended "Secrets of South India" Small Group Journey, which spends two nights in the coastal town of Pondicherry where the film was shot.
After Slumdog Millionaire swept the Oscars in 2009, Ang Lee's epic has claimed spotlight on another Indian story by bagging the second highest nominations at the 85th Academy Awards, as well as a further three Golden Globe and 10 BAFTA nominations. The colourful adventure-drama has captured the imaginations of audience members across the globe and follows Yann Martel's tale of Pi Patel from Pondicherry who shares a lifeboat with a Bengal tiger.
The scenery featured in the film is one of the star elements and for travellers who want to see this incredible landscape in real life, a trip around South India with Travel Indochina is the perfect way to do so. Extended from 11 to 12 days for 2013, the specialist tour operator's "Secrets of South India" escorted tour showcases some amazing locations as featured in Life of Pi.
This journey of discovery uncovers ancient temples, colonial history, traditional villages and quaint seaside towns including the former French colony of Pondicherry, the backdrop of the entire first act of the film. Here guests of Travel Indochina can enjoy a vibrant heritage walk unveiling charming colonial architecture and churches to its patronage of the arts. This little-visited corner of India is a true one-off for travellers, rich in colour and history where French is spoken on the streets and policemen wear kepis in the style of M'sieu De Gauille. It is also home to the world-famous edifice Shri Aurobindo Ashram, which is visited by Travel Indochina.
Elsewhere on their "Secrets of South India" journey, customers will explore the fascinating southern regions of Cochin, Thekkady, Madurai, Karaikudi, Tanjore, Mahabalipuram and Chennai. Along the way, they will experience a number of Travel Indochina's unique insider experiences, including a visit to the lush spice gardens of the Kerala hills where pepper, ginger and cloves grow; and a tasty cooking demonstration to learn about the famous Chettinadu cuisine at an award-winning heritage hotel.
Travel Indochina's "Secrets of the South" Small Group Journey is guaranteed to depart on 9th February and 2nd March 2013. Prices start from £1,575 per person, including 11 nights' hotel accommodation, all road transport in air-conditioned vehicles, sightseeing and entrance fees, a Western tour leader (based on a minimum of seven travellers), local English-speaking guides throughout, airport transfers, daily breakfast and one dinner. International flights are not included but can be arranged at an additional cost.
Manda Churchill, general manager of Travel Indochina, comments: "India was made for the movies. With its stunning landscapes, rich cultures and friendly people, the country has much to explore and is one of the most rewarding destinations in Asia. We very much hope that Life of Pi will inspire even more travellers to join our recently-extended "Secrets of the South" Small Group Journey to experience this magical land where Pi grew up."
For more information, visit travelindochina.co.uk.