Ragley Hall to star in new BBC2 Period Drama "Dancing on the Edge"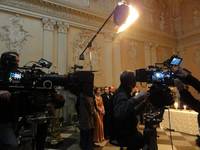 Ragley Hall, Warwickshire's most stunning stately home, is set to star in the new BBC2 period drama 'Dancing on the Edge'. The new five part series, which is written and directed by Stephen Poliakoff and stars Chiwetel Ejiofor, Matthew Goode, Anthony Head, Caroline Quentin, Mel Smith, Jacqueline Bisset and Jane Asher, plus The Paradise's Joanna Vanderham, Merlin's Angel Coulby and Entourage's Janet Montgomery, will open with two episodes on Monday 4 and Tuesday 5 February at 9pm. The drama will then continue on Monday nights at 9pm, finishing with an extra hour "Interviewing Louis" broadcast on Sunday 10 March at 10pm.
Set in the early 1930's, the series follows black jazz musicians, the Louis Lester Band, as they find fame among London's upper classes. While many dislike the presence of black performers, other more progressive socialites warmly welcome them. But, when someone is found murdered, the band's world starts crumbling around them.
Ragley features as 'Lady Cremone's' home and was also the location for a party filmed in the Stables Courtyard. The BBC spent five days filming at Ragley back in January 2012. Ragley is no stranger to appearing on primetime TV. The stately home starred in the BBC1 Countryfile Christmas special which was aired in December 2012 to over 8 million viewers.
Emma Maguire, Commercial Manager said: "We were delighted that the BBC chose Ragley as the location of Lady Cremone's house in Dancing on the Edge. Being such a grand and stately home, Ragley was the perfect venue to feature in this exciting new series!"
For more information on Ragley, please visit the website at ragleyhall.com.