Pop and soul legends top live music bill at Silverstone Classic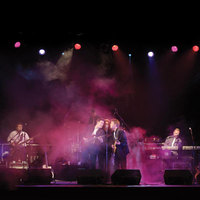 One of Britain's most famous bands – The Hollies – will top the live music bill at this summer's Silverstone Classic (26-28 July).

Formed in the early 1960s, The Hollies enjoyed no fewer than 30 singles in the UK charts and along with the Rolling Stones is one of the few British groups from that era that have kept performing for more than 50 years.

Two of the original band members – guitarist Tony Hicks and drummer Bobby Elliot – are still present today and festival-goers at Silverstone are promised a memorable Saturday evening, including many of the band's most loved classic vocal harmony hits such as: 'Just One Look'; 'Bus Stop'; 'On a Carousel'; 'Carrie Anne'; 'Jennifer Eccles'; 'He Ain't Heavy, He's My Brother' and 'The Air That I Breathe'.

Underlining the enduring pop group's elite status, The Hollies were inducted to the Rock and Roll Hall of Fame in 2010.

Friday evening's line-up features another illustrious band, this time from the silver screen. The 'Stars from The Commitments' includes original cast members from the BAFTA winning film The Commitments. Released in 1991 and directed by the great Alan Parker, the comedy drama is based on Roddy Doyle's book and follows the fortunes of some working class Dubliners who form a band as a special homage to soul music greats Otis Redding, James Brown and Wilson Pickett. More than 20 years on, stars from the movie are still performing many of the film's hits including 'Mustang Sally' and 'In the Midnight Hour'.

Silverstone Classic festival-goers will also be treated to a host of other familiar favourites from four top tribute bands. Floyd Reloaded and Bootled Zeppelin will be performing Pink Floyd and Led Zeppelin classics on Friday while The Hollies will be supported on Saturday by the Ultimate Eagles and the Guns N' Roses Experience.

There's live music on Sunday, too, with the all-female Tetra Electra Quartet performing amplified arrangements of many much-loved classical favourites.

"We've had some amazing pop and rock bands providing great entertainment at recent Silverstone Classics and I'm thrilled that we can now add the legendary Hollies to the names of Adam Ant, Mike & the Mechanics, Santana, Suzi Quatro, 10cc and the Yardbirds," said Nick Wigley, event director. "Anyone who saw The Commitments knows just how good the music from that film was, too, and everyone knows just how popular tribute bands are with festival-goers – we've got four of the very best lined up for July. Add all this live music to the full on-track programme of 24 fantastic races and the scene is set for another wonderful 'Rocking and Racing' weekend."

All tickets to the Silverstone Classic give free access to the live music concerts on both Friday and Saturday evenings as well as racing paddocks and trackside grandstands. Tickets must be purchased in advance. Those booking before the end of March can take full advantage of special 'Early Bird' prices with adult entrance starting from just £30 (plus fees). Considerable savings are also on offer for festival-goers spending the full weekend at Silverstone and special packages for car clubs and their members are available. Full details can be found on the official silverstoneclassic.com website.