Romance and half term fun in Shakespeare Country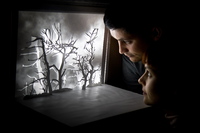 Celebrate Valentine's Day in the beautiful and romantic setting of Shakespeare Country and combine with a short break during the half term from 16 - 24 February. From Valentines ghost tours, Shakespearian love scenes and a romantic Snowdrop weekend to performances of The Icebook, four ancient rooms being unlocked at Warwick Castle to new born lambs and den-building, there's something for everyone to enjoy!
See a performance of The Icebook by the Royal Shakespeare Company which runs from 18 – 23 February in the Swan Reading Room. The Icebook is a miniature theatre show made of paper and light. Using fragile paper cut outs and video projection, The Icebook fuses animation, book art and performance to create an intimate and immersive experience. With a running time of 20 minutes, The Icebook is designed for audiences of up to 10 people, and is suitable for those aged 10 and above.
Warwick Castle will unlock four rooms that have remained closed for generations to reveal secrets and stories across four centuries of the Castle's past. The four ancient rooms – Barbican Battlements & Captain's Room; a recently-unearthed bear pit in Bear Tower; Watergate Room; and The Guards' Room in Guy's Tower – will excite visitors of all ages and unlock defining chapters in the Warwick Castle story to reveal tales of battle, siege, murder, power struggles and hauntings. Visitors will have the chance to seek a shy ghost, explore a deadly bear's lair and smell foul mediaeval sludge from Saturday 16 February, when the rooms open for the first time – ideal for keeping kids happy during half-term.
Shakespeare's Birthplace is hosting 'A rose by any other name' from the 14 – 24 February featuring a celebration of famous love scenes from Shakespeare's plays. Or take part in the Trail of Love at Anne Hathaway's Cottage and find Shakespearian love quotes and a secret message hidden in the wood. Tie romantic tributes to a Sweetheart Tree, plus there's a Valentine's I Spy game for children. At Nash's House & New Place, match famous Shakespearian couples concealed around the house and garden. Celebrate Hall's Croft Birthday from the 15 February with an exhibition celebrating 400 years of its history!
Take part in a Valentines Ghost Tour at Kenilworth Castle on Friday 15 February at 7pm and 8pm. The Castle is one of England's most romantic ruined castles, but not all lovers who lived there had a happy existence. Learn about their lives and deaths on an eerie evening tour around the castle and gatehouse (over 16s only). Booking tickets for this event is essential as places are limited. Kenilworth Castle is also calling all junior investigators for its Family Fun Trail from 16 - 24 February from 10am - 4pm. Visitors will need to crack clues and solve a mystery to earn a prize. Guaranteed outdoor fun!
Spend Valentine's in the company of Dashing Jack at Tudor World - The Falstaff Experience. On Friday 15 February at 7:30pm and Saturday 16 February at 2pm, Jack will visit the haunted areas of Stratford and present every lady on the tour with a rose. Or take part in a spooky ghost tour at The Falstaff Experience museum every night, with each lady receiving a rose on the 14 & 16 February. For a really spooky early Valentine present, the Friday Fright Club Ghost Hunt will take place on Friday 1 February from 9pm - 1am.

Enjoy a Snowdrop Weekend at Hill Close Gardens in Warwick from the 16 - 17 February from 11am - 4.30pm show-casing 60 different types of snowdrops. See the spring flowers in the sixteen hedged gardens; enjoy refreshments and sales of plants including the unusual snowdrop varieties. An ideal way to celebrate St Valentine's Day as there is nothing more romantic than a dainty snowdrop!
Stratford Butterfly Farm is hosting its fascinating and exciting Jungle Explorers Trail which will take children on an exciting journey around the Farm to discover interesting facts and amazing creatures from around the world. Visitors of all ages will also be able to take part in handling sessions at 11.30am and 2.30pm every day.
Ragley Hall is inviting visitors to join them for a Ragley Forest Adventure with activities such as den-building, campfire making, natural art and story walks – sessions designed and run by fully qualified Forest School leaders. Or visitors can head off on an adventure of their own on a treasure hunt through the Woodland Walk or get creative with craft activities.
The sight of newborn lambs frolicking around the fields can be seen at Hatton Farm Village, where families can get up close to the action with a special lambing marquee. Visitors are in for a treat with more than 50 sheep expected to lamb over the nine-day break, the highlight of the annual 'February Frolics'. The lambing marquee enables children to watch the newborn lambs being nursed by their mothers and some might even catch sight of a lamb actually being born. Farm Village shepherd Pete Mobley will be running talks throughout the week introducing children to the various breeds of sheep found at the farm village. There will also be falconry displays, fun fair rides plus a host of indoor activities.
The Heritage Motor Centre is inviting families to enjoy a week of Auto Science Live. The event features a range of family friendly activities bringing automotive engineering and the science behind it to life. Included is a programme of fun and interactive workshops plus drop in sessions to inspire all ages. Children can choose from painting with remote controlled cars, digital photography and a K'nex build challenge. In addition, a free Auto Science Quiz will run all week with a prize for those that solve it.
St Johns House Museum in Warwick will host Your Family Scrapbook on Friday 22 February. Find out about past Warwick families from documents at Warwickshire County Record Office and make your own scrapbook to take home. Ralph Sheldon's Terrific Tapestry takes place on Saturday 16 February at Market Hall Museum in Warwick. After being conserved and on loan to the British Museum, celebrate the return of the 16th century Sheldon Tapestry. Take part in a jewellery workshop from the 18 – 22 February at Market Hall Museum and certain libraries. Explore jewellery from ancient to modern times. Discover what types of jewellery the Egyptians, Romans or Anglo Saxons would have worn and what kinds of precious things archaeologists have found in Warwickshire.
The Herbert Art Gallery & Museum will be encouraging families to become Incredible Inventors with a week of free family workshops. There are two sessions each day, the first at 10.30am and the second at 1.30pm. On Monday 18 February families will be able to get sticky with Bags of Glue! Inspired by Coventry's rich history in watchmaking, Tuesday's workshop is Wheely Wonderful Watches. On Wednesday, families will be able to drop in and create their own magic in Optical Illusions. Children will have the chance to become the next Frank Whittle, the Coventry born inventor of the jet engine on Thursday 21. Balloon Rockets may be a classic but it's a still great fun! To round off the week of inventiveness, Friday will look towards the up and coming inventions with the workshop Transport of the Future.
From February, take a seat on the Views Walk to see a new side of Charlecote Park and watch the painstaking work that goes into caring for a precious collection when a major buildings project is underway.
Why not romance your loved one by booking into a luxury country house hotel, enjoy champagne teas, and relax over a romantic candle-lit dinner in one of the areas many beautiful and historic venues including the Noel Arms Hotel, Wroxall Abbey, Ettington Park Hotel and Ardencote Manor.
For accommodation, special offers and more information visit the official website: Shakespeare-Country.co.uk.