Easter comes early for winter weary travellers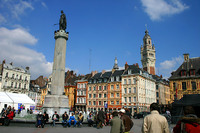 An earlier than usual Easter in 2013 means winter weary travellers won't have too long to wait to get away from it all on an invigorating spring break.
Good Friday falls on March 29 and travellers can take advantage of the long Bank Holiday weekend by booking an Easter getaway at home or abroad.
Weston-super-Mare based coach operators Bakers Dolphin say the four-day break can't come soon enough for customers tired of the wet and wintry weather at the end of last year.
Sales and marketing director Amanda Harrington said: "Our customers haven't wasted any time booking their breaks and the good news is they won't have too long to wait before they go."
Bakers Dolphin has added over 40 new tours for the 2013 season to whisk passengers from Weymouth to northern Italy or Bournemouth to Southern Germany.
Handy four-day destinations include Bruges and Lille alongside perennial favourite Dublin which includes a whistlestop visit to the Wicklow mountains and the famous Fitzgeralds pub from Ballykissangel.
Closer to home Bakers Dolphin has added a number of intriguing new destinations combining must-see visitor attractions with a strong maritime theme.
As well as carefully selected tours of quintessential English countryside landscapes including the Cotswolds and Kent the company will be taking customers to the water with Easter trips around the historic Midlands canals network and the Norfolk Broads.
And maritime favourites such as Greenwich combine the best of both worlds, giving customers a chance to see the newly restored Cutty Sark as well as a nostalgic trip to the seafront at Southend.
Amanda Harrington said: "This year we are taking people right to the heart of their chosen destination dropping them on the doorstep of the best value restaurants, superb architecture, culture and shopping."
All the Easter breaks can be found in the Bakers Dolphin Autumn/Spring brochure. To request a copy or book a holiday, visit bakersdolphin.com.