The all-new Mitsubishi Outlander has landed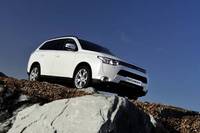 Mitsubishi in the UK has announced the arrival of the all-new, third generation Mitsubishi Outlander.

Representing a hugely exciting opportunity for Mitsubishi Motors in the UK, the all-new Outlander will make a dramatic entrance into Mitsubishi showrooms all across the UK from early February. Eagerly awaited, the all-new SUV from Mitsubishi Motors is the greenest, most stylish and most technologically advanced yet.

Be Safe, Not Sorry

Careful development of the outgoing Outlander's architecture and safety equipment means that the all-new vehicle is not only the most environmentally friendly but also the safest Outlander ever produced. Achieving an impressive 5 star Euro NCAP safety rating, with new features such as City Crash Provision and the improvement of Mitsubishi's existing safety system "RISE" as standard, the new vehicle also boasts a new range topping GX5 derivative with Lane Departure Warning, Forward Collision Mitigation and clever Adaptive Cruise Control technology. Throughout each element of the comprehensive NCAP test, the all-new Outlander scored highly, particularly in the "Safety Assist" section, achieving an exceptional 100%!

A Bit of Peace… And Quiet…

The all-new Mitsubishi Outlander offers style and substance. Benefiting from advanced specifications and enhanced safety features, noise and vibration are substantially reduced and along with multi-link suspension means that passengers will enjoy a better ride experience. The 'peaceful' Outlander is aided further by new tyres and better positioning of sound proofing materials. And with all-new third row seating, which has been completely reengineered from the outgoing model, it now means that even the rear-most passengers have a more comfortable journey too!

Style and substance are also reflected in the interior of the vehicle. A simple, tasteful design with smooth lines made from high-quality materials gives the Outlander a rich, premium feel. The dashboard 'envelopes' the driver, and there are ergonomic steering wheel controls and high-resolution, easy-to-read instrument displays. Clarity, confidence and quality are the watchwords.

Efficient Aerodynamics

Mitsubishi engineers have reduced the all-new Outlander by 100kg, compared with the out-going model, improving efficiency and performance. With a drag coefficient of 0.33, the new vehicle produces 7% less aerodynamic resistance than the old one too!

Under the Bonnet

The all-new Outlander will be available with a redeveloped version of the established and technologically advanced Mitsubishi 4N14 2.2-litre 16v DOHC diesel engine, which now produces improved low-end torque, superior fuel economy, class leading CO2 emissions of just 138 g/km of CO2 and easily meets the latest Euro 6 emission standards.

Green Thinking

That's not all, although the clean diesel has the best fuel economy and emissions figures of any of its key competitors in the 7 seat 4x4 segment, the all-new Outlander has been designed from the ground up to incorporate Mitsubishi's advanced plug-in hybrid technology, due to the UK in a few months' time. As such, the new Outlander is the first mainstream car from a major manufacturer designed to have built-in provisions for either Internal Combustion Engine or Plug-In Hybrid powertrains.

Step It Up A Gear

Two gearboxes are available with the new generation Outlander: A Six-speed manual and a INVECS-II six-speed automatic. The six-speed manual gearbox has been developed with lower emissions in mind, but not at the cost of driving dynamics. A major difference with the outgoing Outlander is the availability of a conventional six-speed automatic gearbox which replaces the previous twin-clutch 'TC-SST'.
TLC
The all-new Mitsubishi Outlander has a 3-year / unlimited mileage warranty together with a pan-European roadside assistance package. The service interval for new Outlander is 9,000 miles/12 months (whichever occurs first). Mitsubishi's extremely competitive service plan (MSP), covering the first three scheduled services can be purchased for just £600 including VAT, with further MSP top-up cover available at the 4th and 5th services for an additional £570 including VAT.

Go Compare

The all-new Outlander has achieved a very competitive insurance group rating that varies between 22E and 23E depending on the derivative. The GX5 is particularly impressive, achieving a group 22E status, which is a full five groups below the equivalent Honda CR-V EX.

The View From The Top

Managing Director of Mitsubishi Motors in the UK, Lance Bradley, said: "This car is hugely important for Mitsubishi Motors in the UK and we are confident that it will appeal to our existing customers and attract new ones. We are a niche manufacturer and cater for people who want something a little bit different. And of course, we specialise in four-wheel-drive with 70 per cent of the vehicles we sell being 4x4s. That is what we are famous for.

"This all-new Outlander is the first in a number of exciting new vehicles from Mitsubishi Motors this year and we are sure it will do well."

In A Nutshell

The Outlander has always been a popular choice for Mitsubishi Motors customers and this all-new model offers significant advancements on what is already a successful formula. Since 2001 a staggering 950,000 Outlanders have been sold worldwide and that trend looks set to continue, especially with style-conscious families desiring a versatile, premium and spacious vehicle – all of which are available from the all-new Outlander.

The new, assertive Outlander offers a very comforting sense of quiet, protection and safety to its occupants – a quality car of substance designed for long-haul travelling, it's more economical, dynamic, safe and has outstanding environmental credentials. With this in mind, the new Outlander represents a truly segment-leading SUV.

The arrival of the much anticipated Outlander Plug-In Hybrid later this summer completes what is an exciting, innovative and technologically advanced Outlander range. Whilst the Outlander PHEV official homologation figures will be finalised in a few weeks time, the latest data already confirms the excellent credentials with targeted CO2 emissions (weighted) of 44g/km, fuel consumption of a staggering 147.9 mpg and an electric driving range of 32.5 miles.

And Did You Know…

Tried and tested: Mitsubishi's new Outlander has excellent road manners too – which is no surprise as it is built on the same platform that has served its Evo X models so well.

Keeping your distance: Mitsubishi's Adaptive Cruise Control System maintains a safe distance between you and the vehicle in front – even at low speeds. It can detect vehicles up to 200 metres away.

Premium feel: Padded surfaces, soft-touch finishes and gloss black appliques add a touch of luxury to the Outlander experience.

Avoid trouble: Lane Departure Warning System will keep you on course while Forward Collision Mitigation System detects obstacles on the road ahead and applies the brakes.

Space in spades: The cargo capacity with two people on board is 1,022 litres – that's 1,798 pints!

Not too taxing: The Outlander 2.2 Manual is in VED Band E – the same as a Volkswagen Polo 1.4 petrol.

Kerb appeal: The kerb weight of a manual Outlander is 1,555kg. That's less than a BMW 1 Series – and less than half as much as an Audi Q7. The low kerb weight helps to achieve best-in-class fuel economy.

A great drag act: The Outlander has the same drag coefficient (0.33) as the Nissan Micra.

Quick getaway: The 0-62mph time is 10.2 seconds, faster than a 1.6 Golf TDI.

For more information, visit mitsubishi-cars.co.uk.