Mitsubishi's plug-in hybrid is the ultimate for sail-makers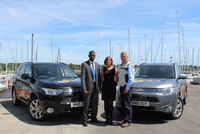 A leading south coast sail-maker has gone green with its decision to buy two Outlander PHEVs, the ultra-low emission ground-breaking SUV.
Ultimate Sails, based at Port Hamble Marina near Southampton, was looking to replace an elderly pickup and van for general use and transporting sails across the country.
'We didn't just want vans and company car tax was a factor in our decision,' said Kevin Sproul, a director at Ultimate Sails. 'Four-wheel drive was important as well as we are often off-road near the water, and being closely involved in sailing, which is a green sport, the PHEVs low emissions also appealed. Because of the tax savings available it's the perfect vehicle for any business, especially if you own the business.'
Sparshatts of Fareham supplied the Outlanders and they have proved to be a real success. 'They are fantastic,' said Kevin. 'The technology is completely seamless and they are so simple to use – there is no clunkiness at all.'
Ultimate Sails are having a charging point installed at their marina offices for convenience and ease of use.
The Outlander PHEV is the world's first plug-in hybrid SUV. Using both electric and petrol power it has an electric range of 32½ miles plus phenomenal economy and environmental credentials, emitting just 44g/km of CO2 with a combined fuel consumption figure of 148mpg. This means no vehicle tax is payable, plus it's exempt from the London congestion charge. It is also eligible for the Government's £5,000 Plug-in Car Grant and company car driver saves thousands in Benefit in Kind (BIK) tax.
Shelton Chikomwe, Sales Exectuive at Sparshatts of Fareham in Newgate Lane, said: 'The Mitsubishi Outlander PHEV perfectly reflects the environmentally friendly nature of sailing and ticks all the practical boxes for Ultimate Sails. In addition the Benefit in Kind is just five per cent meaning ultra-low company car tax, also a key consideration. The Outlander PHEV is the ideal vehicle for the team at Ultimate Sails.'