How the all-new Mitsubishi L200 Series 5 defines the next generation of pick-up trucks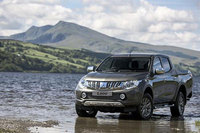 Pick-up trucks are fundamental to Mitsubishi Motors. In the UK our legacy extends through four model generations and 33 years. The Mitsubishi trophy room shows the current L200 Series 4 has won more awards than all of its rivals put together. Since its UK launch in 2006, the current L200 Series 4 has outsold all other pick-ups.
Its forerunner L200 Series 3 was almost entirely responsible for the development of the vehicle segment. Globally, Mitsubishi has six decades of pick-up production, accounting for over 4.1 million vehicles sold.
The new L200 Series 5 inherits the DNA of its predecessors and further advances the pick-up concept. It is an entirely new vehicle from the ground up, with significant improvements in 330 areas. The result is the ultimate vehicle for commercial duty, combined with SUV-like refinement in quality and dynamic performance. In all key areas the new L200 Series 5 is best-in-class.
The L200 Series 5 driving experience is a generation ahead of any other pick-up on the market. It is as competent climbing up a mountain or navigating a building site, as it is comfortable on a motorway or around city streets. The vehicle retains the marque's reputation for ruggedness and durability, and continues to have the best 4WD system. It is the only pick-up that can be driven permanently in 2WD and 4WD on tarmac and off-road.
The new L200 Series 5 provides outstanding cabin comfort and ride. The vehicle has class leading leg room. Mitsubishi's unique 'J' curve body design between cabin and cargo area is not just for visual styling. It allows for a 25 degree recline in the rear seats, making for a comfortable 4 or 5-passenger 'long journey' space. Interior width has also increased, as have the sizes of the driver and front passenger seats, which now incorporate high density, soft touch 'memory' foam.
The level of equipment specification on standard models is also class leading. For example, the new dual-zone air conditioning is 30 per cent quicker at cooling down the cabin space from 50 degrees to less than 20 degrees. The result of best in class aerodynamics and superior sound insulation is that the vehicle is significantly quieter.
The Mitsubishi 'J' curve design also contributes to the dynamic qualities of the vehicle. Whilst creating the maximum amount of space inside the cabin, it also allows for a compact wheelbase, aiding manoeuvrability and giving the all new L200 Series 5 its best-in-class turning radius of 5.9 metres and steering that can go from lock to lock in 3.8 turns (down from 4.3 in the previous generation L200).
Ride comfort is elevated to SUV levels through the introduction of a fully revised suspension, including six shock absorbing body mounts that are more than double the size of those in the previous model. These absorb noise and vibration from the road, contributing to a smooth and quiet cabin experience.
Torsional rigidity in the all-new L200 Series 5 is 7 per cent greater than in its predecessor. This contributes to a significant improvement in handling and stability. Body roll, which has the effect of slowing down a vehicle's dynamic response, has been dramatically reduced on the new model, making it much more nimble.
The new L200 Series 5 has stiffer front springs, a larger suspension stabiliser bar and optimised damping characteristics. At the rear, the leaf spring suspension has been increased in length by 120mm.
The new L200 Series 5 has the largest carrying capacity of any pick-up, in no small part due to the extensive use of high-tensile steel in both cabin and cargo bed, building in strength without increasing overall vehicle weight. The result is a pick-up with the best in class combined load bed capacity and full towing capability of 4.1 tonnes.
With a combined 42.8 mpg, L200 Series 5 uses between 11 and 47 per cent less fuel than competitor pick-ups. It has the largest range in its class, being able to travel 685 miles on a full tank of fuel. And at just 169g/km CO2, it has the lowest emissions in its class by as much as 33 per cent, safeguarding owners against a future emissions-based tax regime for commercial vehicles.
The new MIVEC turbo diesel engine combines cutting-edge technologies for fine control of combustion. As a result it achieves one of the lowest compression ratios for a diesel engine, 15.5 to 1. A lower compression ratio increases combustion efficiency, which improves economy and emissions. Lower compression also allows for the use of lighter materials in the engine's construction. Consequently, the L200 Series 5 is the first pick-up in the world with an all-aluminium engine, which allows a weight saving of 30 kg. It is also the only pick-up with variable valve timing.
Power and torque are increased to 178bhp and 430Nm at 2,500 rpm, delivering superior performance through a new 6-speed manual transmission or automatic. At 10.4 seconds, L200 Series 5 is two seconds quicker to 62 mph than its predecessor.
New L200 Series 5 incorporates Mitsubishi's Reinforced Impact Safety Evolution (RISE), which is a highly efficient energy absorbing structural design that disperses shock from any direction.
On board Active Stability & Traction Control (ASTC) prevents wheel slip by controlling unstable vehicle movements. It individually brakes spinning wheels and controls power distribution from the engine, if traction is lost on slippery surfaces or when negotiating steep slopes.
Seven SRS airbags have been incorporated into the cabin to protect the vehicle's occupants. And the steering wheel retracts in a collision.
Shock absorbing structures are installed around the bonnet and bumpers that minimise injury in the case of pedestrian impact. Additionally, the new model is fitted with lane departure warning, trailer stability assist, hill start assist and ABS with electronic brake force distribution.
In recent years, the pick-up truck has evolved to cover everything from commercial to private and recreational use and there has been considerable diversification in what customers look for in this type of vehicle. The L200 Series 5 embodies the comfort of a passenger car with the functionality, strength and reliability of a pick-up and this is strongly reflected in the vehicle's styling.
The vehicle design is of the next generation. Striking and vibrant exterior lines project a commanding road presence and a muscular, planted stance. The vehicle's 'athleticism' is expressed through sharp, muscular surfaces and a taut 'belt line'.
The vehicle's form is expressive but also very much related to its function. The cargo bed of the New L200 Series 5 has improved usability, with more depth and greater overall volume. For additional strength, it is also reinforced with cross sills connected directly to the chassis frame, and has toughened steel panels around the rear gate pillars to resist fatigue.
The all-new L200 Series 5 will go on sale in September. Initially available in double cab, prices start from £19,749 for the 4Life, £20,749 for the Titan, £23,049 for the Warrior and £23,799 for the top of the range Barbarian.