Holiday park is switched on to Outlander PHEV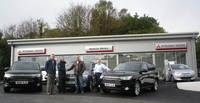 A Mitsubishi dealership in Cornwall is helping bosses at a top holiday park to help the environment.
Hawkins Mitsubishi, in Browns Hill, Penryn, sold three Outlander PHEVS to the five-star Hendra Holiday Park in Newquay, which will be used by its directors.
The Outlander PHEV is the world's first plug-in hybrid SUV. Using both electric and petrol power, it has an impressive electric range of 32½ miles plus phenomenal economy and environmental credentials, emitting just 44g/km of CO2 and boasting an official combined fuel consumption figure of 148mpg. This means no vehicle tax is payable, plus it's exempt from the London congestion charge. It is also eligible for the Government's £5,000 Plug-in Car Grant.
What's more, the Benefit in Kind is just five per cent, giving company car drivers a virtual pay rise of several thousand pounds per year.
Martyn Ayres, Sales Manager at the showroom, said: 'It started with them just wanting one PHEV but they liked it so much that the order eventually went up to three, with Mitsubishi Service Plans on all of them, which makes sound economical sense. They thought the PHEV was fantastic. And needless to say, we're delighted that the park has kept the business in Cornwall by coming to us to buy them.'
Will Dexter, Financial Director at Hendra Holiday Park, which has its own solar and wind farms that generate the 100-acre site's electricity, said: 'We are heavily into renewables, and as part of our commitment to long-term sustainability we wanted a vehicle that we could charge up from our renewable sources.
'We wanted something that would be transport for directors as normal cars. What works for us with the PHEV is that it seems to be the perfect marriage of a car that is usable but also puts a massive tick in the Benefit in Kind box.
'Here is a car that isn't a tin shell. This is a proper car with decent spec.'
Hawkins has been a Mitsubishi dealer for just over two years, having been in the automotive business for 81 years.