Culinary tour of Vietnam and Cambodia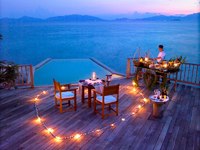 Cape Lux Travels has introduced the fully escorted A Feast For The Senses food tour to Vietnam and Cambodia with acclaimed author Kim Fay.
With a focus on the two countries' greatest attractions—Vietnamese cuisine and the Cambodian temples—this unique tour will offer an authentic insider's journey by combining Cape Lux Travels' expertise with Fay's experience living in, traveling around and writing about Vietnam and the surrounding region for the past eighteen years.
Vietnam boasts one of the world's most original cuisines, which is characterized by a complex blend of textures and flavors. Fresh and healthy, it varies throughout the country's northern, central and southern regions, revealing a diversity of culinary and cultural influences.
With a maximum of just 14 guests, A Feast For The Senses invites you to travel through these regions and meet some of the country's most lauded French, Vietnamese and Cambodian chefs, who will not only share their secrets—they will also invite you into their kitchens to try your hand at iconic traditional dishes. Thoughtful guided food excursions to restaurants, markets and more will be balanced with free time for making discoveries of your own.
Rounding out this trip will be a visit to Cambodia, including exclusive culinary outings and explorations of one of the greatest wonders of the world, the Angkor temples, which are featured in Fay's novel, The Map of Lost Memories.
Taking place from September 27 to October 10, 2013, A Feast For The Senses includes 13 nights in five-star accommodations; breakfast daily, 7 lunches and 13 dinners; 3 cooking classes; internal flights within Asia, air-conditioned transport, entrance fees and much more. Fay and Cape Lux Travels' founder, Jean Wethmar, will accompany the journey at all times. Rates for this exclusive tour begin at $4,350 USD.

For more information, visit capeluxtravels.com.
About the Tour Leaders:
Jean Wethmar is the founder of Cape Lux Travels, specializing in customized, themed, fully escorted luxury tours throughout Asia. Cape Lux Travels works in partnership with Luxury Travel Co. Ltd., Vietnam's first luxury tour operator and full-service travel agency.
Kim Fay is the author of Communion: A Culinary Journey Through Vietnam, winner of the World Gourmand Award for Best Asian Cuisine Book in the United States, and The Map of Lost Memories, a 2013 finalist for the Edgar Award for Best First Novel by an American Author. She is also the creator and series editor of the To Asia With Love guidebooks.