Adele named the best new celebrity mum - by mums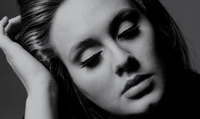 Singing superstar Adele has been named as Britain's best-loved new celebrity mum. The Tottenham-born singer and songwriter, who scooped a hat-trick of awards at the Brits, Grammys and Oscars, gave birth to son Angelo James last October and was hailed as the mother who would be most welcome at mother and baby groups.
The Skyfall songstress beat other singers Lily Allen and Stacey Solomon to claim the title in the poll of 8,000 fellow new mothers, conducted by parenting website Bounty.
Adele, who recently denied marrying the father of her son, entrepreneur Simon Konecki, was also commended for managing to keep baby Angelo out of the limelight.
Lisa Penney, spokeswoman for the Bounty 'Celebrity Stork Award' said: "Famous mums are often hailed as being the nation's favourites simply because of their celebrity status and not necessarily because of their personality or parenting skills.
"Real mums identify with Adele. They respect the fact that she hasn't fallen for the 'fame game' and has done everything she can to keep her son away from the media circus."
Lily Allen took second place in the poll after being praised for having her feet firmly on the ground.
Lily has shown the nation her strong maternal instinct by putting her music career on hold to relocate to the country and become mum to two baby girls in the space of just 14 months.
Third place in the poll went to reality TV star and X Factor contender Stacey Solomon.
The down-to-earth star was just 18 when she had her first son Zachary, and in May 2012 gave birth to second son Leighton.
Actress and presenter Amanda Holden came fourth.
The nation's hearts went out to the Britain's Got Talent judge after the baby she was expecting was stillborn at seven months.
She also endured a traumatic delivery giving birth to daughter Hollie in 2012.
Actress Billie Piper was fifth position in the Celebrity Stork Awards, for her relaxed attitude to raising sons Eugene and Winston.
Former Eastenders actress Tamzin Outhwaite was the sixth favourite celebrity mum, closely followed by reality star and single mum Chantelle Houghton.
Sophie Ellis-Bextor, Sienna Miller and the Saturday's singer Una Healy complete the top 10.
Lisa Penney added: "Mums really seem to appreciate those celebrities who try to raise their families out of the limelight.
"Other new mum celebrities who haven't made the top 10 list and would perhaps be given the cold shoulder at a mother and baby meet ups include Beyonce, Jessica Simpson, and Peaches Geldof.
"That's not to say some of these celebrities aren't good parents, but British mothers seem to have more admiration for those that try to lead a more 'normal' life with their children."
Top 10 new celebrity mums
1. Adele – Angelo James, born October 2012
2. Lily Allen – Marnie Rose, born January 2013
3. Stacey Solomon – Leighton, born May 2012
4. Amanda Holden – Hollie Rose, born January 2012
5. Billie Piper – Eugene, born April 2012
6. Tamzin Outhwaite – Marnie May, born August 2012
7. Chantelle Houghton – Dolly, born June 2012
8. Sophie Ellis-Bextor – Ray, born April 2012
9. Sienna Miller – Marlowe, born July 2012
10. Una Healy – Aoife, born March 2012