New Neo's Easy Scooters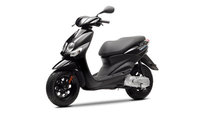 Yamaha has been one of the leading brands in the scooter market for over three decades. During this period the company has created some of the most successful, innovative and sporty models in the 50cc, 125cc and Maxi-Scooter sectors that have enabled many thousands of new riders to experience the fun and freedom of powered personal mobility.

One of Yamaha's objectives is to make the enjoyment of reliable personal powered mobility more accessible, therefore for 2013 the new value-for-money Neo's Easy will expand the Yamaha scooter line-up. Starting from the current Neo's model, we have been able to create a more basic Neo's variant.

Yamaha's Product Planner Giovanna Camisa commented: "With this new 'Easy' variant we are able to offer our customers an exciting, stylish and dynamic new 50cc scooter which combine Yamaha quality, reliability and style in an affordable and value-for-money package."

New Neo's Easy

The smart and affordable city commuter

Offering a good quality/price ratio, the Neo's Easy is based on the highly successful 2-stroke Neo's model (not currently imported into the UK) which has enjoyed tremendous success in the past.

Yamaha has been able to achieve the Neo's Easy's enhanced level of affordability by specifying steel panel wheels, drum brakes, analogue instruments and an easy kick-starter only. With its beautifully sculpted bodywork, zippy engine and a relaxed riding position, the new Neo's Easy is aimed at urban commuters who are looking for a stylish, economical and enjoyable alternative to public transport.

Cool urban style

The Neo's Easy's sleek and curvaceous bodywork not only helps to protect the rider from the wind - it also underlines this fashionable scooter's high build quality. Powerful twin headlights give this ultra stylish lightweight a friendly and charismatic face - while the easy-to-read analogue instrument panel includes a speedometer and fuel light.

Responsive 50cc 2-stroke engine

At the heart of this value-for-money commuter scooter there's a reliable and responsive 50cc 2-stroke engine that delivers instant throttle response for zippy acceleration away from the traffic lights. With its fully automatic transmission, the Neo's Easy rider just needs to twist the throttle and they're on the move - and for secure and easy fuel stops the petrol and oil filler caps are located beneath the flip-up seat.

Comfort and convenience

The spacious dual seat and roomy footboard area are designed with riding comfort in mind - and beneath the flip-up dual seat there's an under seat compartment for secure storage. For added convenience there's also a luggage hook in front of the rider for carrying small bags or groceries.

Easy handling

With its compact chassis and 12inch steel panel wheels, the Neo's Easy is designed to deliver agile handling performance and lightweight steering for relaxed commuting. The chunky 12inch tyres help to soak up the bumps on uneven surfaces, while the plush telescopic front forks and smooth-action rear shock absorber are designed to give confidence-inspiring road holding together with high levels of riding comfort. Front and rear 110mm drum brakes deliver smooth stopping power, making the new Neo's Easy attractive to new riders.

Neo's Easy will be available in black only, and will arrive at the Yamaha dealerships in the UK in late April 2013. SPR £1499.00 plus Government first registration fee and Vehicle Excise Duty.