Safari boats in the Maldives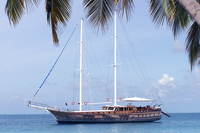 Fleewinter has launched Maldives Boat Safaris providing a chance to experience the beautiful archipelago from the water.
There is a choice of six vessels to choose from including dhonis, traditional Turkish gulets and two luxurious catamarans.
Being water-based provides the opportunity to thoroughly explore the atoll, discover deserted beaches, go snorkelling or diving, and visit the villages and islands few tourists ever see. A little known fact is that the Maldives is a world-class surfing destination and the boats are ideal for exploring the surf breaks and you are dropped off right in the surf-zone without having to wade and swim out through the breakers.
Prices vary from £80 pp per night to £200 pp per night on a full-board basis. All prices are based on two people sharing a cabin and full occupancy. The holidays afloat can also be combined with a stay on an island, providing a genuine two-centre holiday with a difference.
The Bounty shares its name with the infamous 18 century vessel skippered by Captain Bligh. But this Bounty is a traditional Turkish gulet which sleeps 12/14 people in six cabins. The 28m boat has plenty of room and a total of five staff to look after guests. There is a large dining table in the main cockpit and a sunbathing area. From £80 pp per night full board.
The Felicity is the sister vessel of The Bounty and sleeps 14 people in 7 cabins. The craft is similar in design and, like The Bounty, has a 6m motor launch which guests can use to access snorkelling sites or to pop ashore. From £80 pp per night full board.
The Stella 1 and sister Stella 2 are two delightful dhonis, traditional Maldivian boats built in the style of the Middle Eastern dhow. The boats have been luxuriously fitted out, resulting in what might be described as floating boutique hotels.
Perfect for a group of friends or a large family, the Stella 1 sleeps 4 people in two bedrooms whilst the slightly larger Stella 2 sleeps 6 people in 2 triple cabins. Both boats have a full crew to look after guests. From £200 pp per night full board.
Kingfish and Sailfish are two luxurious catamarans which are 14m and 15m in length respectively. Kingfish sleeps 6 people in 3 cabins whilst the slightly larger Sailfish sleeps 8 in 4. Both boats are fully crewed and cost from £150 pp per night full board.
The most cost effective way in which to enjoy a Maldives Boat Safari is by getting together with a group of friends or extended family. For example a week staying aboard The Bounty costs from £1495 pp when six people share the large 12 berth boat including international flights, transfers and full-board accommodation.
For further information, visit fleewinter.com.