Become a sporting sensation at Sani Resort, Greece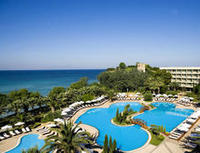 With an increasing travel trend towards adults learning something new on holiday, the family favourite Sani Resort in Greece is now ensuring that younger holiday makers aren't left behind. Set on the Halkidiki peninsula of main-land Greece, this 1000 acre eco resort is the perfect place for children to master all of the the essential childhood sporting skills on their holiday in a fun environment. Getting children active and encouraging them to learn a new skill has never been easier thanks to Sani Resort!
Tennis
With six courts available in the new Sports Complex, learning to play tennis is made simple at Sani Resort. Children can enjoy a relaxed and informal tennis session with their parents or a lesson from one of Sani Resort's professional coaches. Children will get the chance to learn the first steps in tennis, such as hand eye or co-ordination and serving, or take part in a friendly match with their new friends.
Football
Sani Resort's new Football Academy is another option for children to get active and pick up a skill on their Sani holiday! Suitable for children aged between five and fourten years old, the academy is held six days a week and includes skills sessions and group games. Held on Sani Resort's bouncy astro-turf pitch, the academy will teach children the basics of the game or perfect their existing talents, depending on their level.
Bike Riding
Young children on holiday keen to learn how to ride will love the flat cycling paths circling around Sani Resort. There's no risk of steep hills or traffic here as Sani's cycling paths are safe enough for children of all ages, and perfect for those looking to make the leap from stabilisers to whizzing along on their own two wheels. For families with really little children, the bikes can come fitted with a comfy seat at the rear or a tandem seat so all of the family can cycle together.
Swimming
Sani Resort features 7km of beach with crystal clear, shallow and calm water. The white sand beach stretches past all of Sani Resort's four hotels and the salty water is a fantastic, natural buoyancy aid for children. For those who prefer the pool, there's three different options – from the shallow lagoon pool for Porto Sani Village guests, to the main pools at Sani Beach Hotel or Sani Beach Club. Little guests staying at Sani Resort will be removing the arm bands in no time and perfecting their stroke without any extra assitance!
Bird Watching
After all of this activity, children at Sani Resort will also love some down time with a guided bird watching tour with their family. With a wetlands sanctuary on the doorstep of Sani Resort, children will be mesmerised by flocks of colourful birds, who they will see enjoying their natural habitat. Easily accessible on foot, the Sani Wetlands is a peacfeful unspoilt spot of land for families enjoy together. For eco-loving children, Sani will soon be introducing other eco based activities for the 2013 season.
Sani Resort will be opening for the season on the 27th April 2013. Sani Resort (saniresort.gr) offers nightly rates in Sani Beach Hotel from €126 per room per night.
For further information and reservations, visit saniresort.gr.