Easyjet kicks-off Corfu holiday season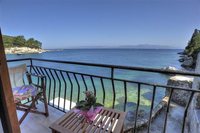 On 27 March, Easyjet commences flights to Corfu, signalling the start of the holiday season. Corfu is also the destination airport for people heading south to the smaller islands of Paxos and Anti-Paxos – a 60 minute hydrofoil journey.
Leading Greek Island specialist, Ionian Villas, has a number of accommodation options for those who want to head for the islands before the crowds arrive, including the following:

Mermaid Cottage on Paxos has a private balcony immediately above the sea with stunning views to the Greek mainland 9 miles away, and is just a few paces away from a sleepy waterfront of tavernas and café bars. Levrecchio beach is a 4-minute walk away in the next bay, where there is a simple taverna set within an olive grove bordering the beach. The close proximity of the property to Loggos negates the requirement for car hire but there are plenty of taxis for those wishing to explore. A week's rental in March/April costs £500 (£250 pp when two share).
Villa Helena, is a three-bedroomed property located 5 minutes' drive from Agios Stefanos, on Corfu's north east coast. It has an enviable private hilltop location with views over valleys of pine forest and olive groves, across the sea to the mountains of Albania. On one side of the villa is a large swimming pool and on the other a barbecue and dining area. The nearest village is Sinies, which has two tavernas, the village of Agios Stefanos, 3km away, also has a selection of tavernas and shops. The nearest beach is five minutes' drive away at Avlaki. A week's rental in March/April costs from £710 (under £118 pp when fully-occupied).
Starfish Villa is a large four-bedroomed villa, ideal for a group of friends or a large family. The property has a private swimming pool, solar-heated Jacuzzi and commands uninterrupted sea views. The villa also has private access to a small sandy cove via a (steep) path of 35 steps and is located three minutes' walk from Alonaki Bay (and three minutes from a taverna), on Corfu's quiet south-west corner. It is also close to Lake Korission which is home to over 100 species of birdlife. A week's rental in March/April costs from £950 (under £120 pp when fully-occupied).
Easyjet flights are currently around £120 per person return to Corfu in late March and early April. Hydrofoil transfers to Paxos cost £17 per person each way.
To see Ionian Villas' comprehensive range of properties visit ionian-villas.co.uk.