White River Canyon Trek in the Atlas Mountains of Morocco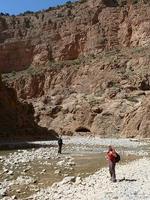 Specialist Morocco has launched a highly original new trip called 'White River Canyon Trek' to the Imilchil region in the Eastern High Atlas – one of the most remote spots in Morocco.
The region is now more easily accessible due to new roads and it offers one of the best treks in the entire Atlas Mountains.
On this off-beat trip you experience a wonderful variety of landscapes from high peaks and arid, almost Mars-like plateaux to flourishing green valleys. The focal point of the trek is to hike and camp in the dramatic Assif Melloul (White River) Canyon between Imilchil and Anergui.
The itinerary starts in Marrakech with an evening visit to the highly animated Djemaa el Fna square, scene of acrobats, musicians and storytellers.
The following day, transfer to Imilchil, spending much of the day travelling by 4X4 north from Marrakech to Beni Mellal then east into one of the most remote spots in the High Atlas.
Reaching the Imilchil region you see the beautiful oval-shaped Lake Tislit set in an arid hollow before arriving at our simple lodge.
The next three days are spent trekking in White River Canyon, starting from Imilchil and spending the first day walking through the fertile river valley of Assif Melloul experiencing isolated Berber villages, green fields, fruit trees, mules and a way of life still little touched by the western world.
On the second day of walking you enter the Assif Melloul (White River) Canyon after Oulghazi and camp at Aghbalou Mouhtti before meandering along the canyon, spending the next two nights camping in picturesque spots close to the river.
On the final day of the trek you head up out of the river valley to Anergui, one of the most beautiful sites in the eastern High Atlas with the green of its fruit and walnut trees to spend the last night before heading back to Marrakech, passing through the villages of Tillougite and Ouaouizarte en route.
The trip can depart any day from May to September and costs from £999 pp (two sharing) or from £649 pp for groups of 5-12 people.
This includes flights, transfers, 8-nights' accommodation (2 nights in a riad in Marrakech, 2 nights in simple hotel/gîtes, 4 nights camping), most meals, private 4x4 transport, mule support for bags during the trek, camping equipment, mountain guides, cook and driver.
For further information, visit specialistmorocco.com.