Radio 1Xtra launches comedy season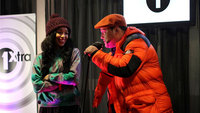 Running from 8-28 April, the season features a stand-up comedy series, Radio 1Xtra's Comedy Club; Knockback, a scripted radio comedy drama written by and starring actors Daniel Kaluuya (Skins and Psychoville) and Jason Lewis (The Jason Lewis Experience and Miranda); Comedy Takeover, a week of comedy-themed radio takeovers from character comedians; and Charlie Sloth's Rinse Out, a sketch show from 1Xtra drive-time DJ Charlie Sloth.
Further information about Radio 1Xtra's comedy season is below.
Radio 1Xtra's Comedy Club (Stand-up) – 8-11 April, 9-10pm
BBC Radio 1Xtra kick off the first week of their comedy season with a series of shows filled with laugh-out-loud comedy from some of the best young comedians of the moment. From Monday 8 to Thursday 11 April, the station will broadcast four hour-long shows, featuring live sets recorded in front of a 1Xtra audience.
The line-up features the award-winning comedian and actor Babatunde; Coming of Age comedian Jamie Howard; fearless and bold stand-up Kane Brown; award-winning comedian and writer Miss London; animated stand-up comedian and impressionist Travis Jay; 22-year-old stand-up comedian and one of Radio 1 and 1Xtra's first ever Take It On interns, Kae Kurd; Mo The Comedian, one of the circuit's most experienced live acts; and BBC Radio 1Xtra's very own drive-time DJ Charlie Sloth.
Knockback – Sunday 14 April, 9-10pm
BBC Radio 1Xtra broadcasts its first scripted comedy drama, produced in collaboration with BBC Radio Drama. Written by and starring actors Daniel Kaluuya and Jason Lewis, Knockback is a story of two young guys trying to make it in life, and their pathetic and loveable failures along the way.
Daniel Kaluuya has previously starred in TV shows including Channel 4's Skins and Black Mirror, BBC's Psychoville and The Fades. His film career includes roles in Johnny English Reborn, Three Kings and Shoot The Messenger. Nominated in 2011 for BAFTA's Brits To Watch award, Daniel is one of the UK's most exciting young talents.
Jason Lewis is best known for his sketch comedy show The Jason Lewis Experience. Jason has featured in many other well-known TV shows, including hit sitcom Miranda, Coming of Age and Armstrong & Miller. The young actor has also gain notoriety for his YouTube music spoofs.
Knockback also stars former Skins actress Larissa Wilson and Seroca Davis, who has featured in many British TV dramas including Doctor Who. The comedy includes a guest appearance from rapper Wretch 32 and cameos from Radio 1Xtra DJs Twin B and Sarah-Jane Crawford.
Knockback will make its debut as six 10-minute episodes featured on the 1Xtra website (bbc.co.uk/1xtra) from 6 April. This hour-long version is an omnibus of all six episodes.
Comedy Takeover – 15-21 April
The second week of Radio 1Xtra's comedy season will see some well-known character comedians set to take over the station's daytime schedule. These unique moments will be streamed on the Radio 1Xtra website, and highlights will be made available at the end of each day.
The comedians set to take over Twin B, Trevor Nelson, Sarah-Jane Crawford and Charlie Sloth's daytime shows throughout the week include Bricka Bricka, Kayvan Novak (Channel 4's Facejacker and Phoneshop), Jocelyn J (aka Mrs Kingston), Fire In The Spoof, Mo The Comedian, Lee Nelson (BBC Three), A Squeezy and Klayze Takeover, A Dot Comedian, Farley and Reid, Terry Mynott, Kurupt FM (BBC three), KG and Marston (featuring 'Caramel' live performance), Man Dem On The Wall, and Jazzie. The weekend schedule will also feature comedic appearances from charismatic rapper Lethal B and seasoned performer Paul Chowdry.
Every act is hijacking features, taking over some of the music choices, interacting with listeners, or delivering full-blown mock-pilots live on the air.
Charlie Sloth's Rinse Out – Thursday 25 April, 4-7pm
Radio 1Xtra's drive time DJ (4-7pm) Charlie Sloth hosts this sketch-based comedy show all about himself – the self-proclaimed 'best looking fat guy in the universe'.
Charlie Sloth's Rinse Out will feature N-Dubz singer Tulisa performing twisted versions of her songs, a mockumentary all about a day in Charlie's life, a Toilet Humour strand with legendary DJ Trevor Nelson, as well as pranks and musical spoofs.
The show will be visualised on the Radio 1Xtra website and sketches will also be available on the 1Xtra YouTube channel, along with other content throughout the season.