Get ready for the start of the season with Dainese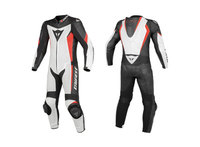 With spring lurking round the corner, it will soon be time to remove the bike cover, dust off riding kit and venture out on the open road. However, if your kit is in need of an update, look no further than Dainese's 2013 collection.

Famous for its high quality leather apparel and safety items, Dainese also offer Gore Tex, textile and D-Dry garments, as well as gloves, boots and casual wear.

Leather

Hot off the production line for 2013 is the Crono P. Estiva one-piece and Crono Div two-piece suits. Both are highly technical and packed with features including aluminum shoulder inserts, certified composite and pro-shape soft protectors. The one-piece version also has an aerodynamic spoiler and excels in sunny weather thanks to its perforated leather. Both suits are available in a variety of colors and priced at £694.99 for the one-piece and £634.99 for the two-piece. The two-piece is also available in female sizes.

Setting a new standard for sports jackets is the stunning Super Speed pelle. It features patented microelastic inserts, Dainese's exclusive D-Skin fabric, ultra-strong S1 fabric and bi-directional elastic in areas where movement is vital. It has co-injected titanium shoulder inserts, pockets for a chest and back protector and an aerodynamic spoiler. There is also a summer version available with perforated leather. The Super Speed is available in various colours and priced at £519.99.

Textile

The Super Speed textile jacket is specifically designed for the sports rider in mind with composite protectors, aluminum shoulder inserts, numerous adjusters, chest and back protector pockets, as well as a jacket to trouser zip fastening. The stylish jacket is made from lightweight mesh fabric offering excellent ventilation, with a removable windproof insert for changeable weather conditions. The Super Speed jacket is available in various colours and priced at £234.99.

Gore Tex

The Stradon Gore-Tex jacket is designed for long-distance touring and incorporates all of Dainese's know-how in terms of ergonomics and functionality. The Stradon has a distinctive style and oozes practicality. It features a breathable waterproof membrane that is laminated to the high strength fabric inserts; it has cowhide inserts on the elbows and back and offers superb fit with its numerous adjustments. For chilly days the Stradon has a removable double collar, as well as a removable external collar. Protection is covered with aluminum shoulder inserts, composite elbow protection and a pocket for a chest/back protector. The Stradon is available in b lack and priced at £784.99.

Footwear

For women Dainese offers the Luma Lady Gore-Tex ankle boot. Combining practicality with a feminine look, the Luma is made from cowhide leather with a breathable, waterproof Gore-Tex membrane. It is fitted specifically to a female foot with nylon ankle inserts, thermoformed shin inserts and a non-slip sole. The Luma is priced at £164.99.

For those seeking something casual but without compromising on protection, Dainese offers the SSC Alpha D-WP. It has been designed to have excellent movement and fit thanks to its second-skin construction concept. It has a waterproof insert and technical features such as external TPU casing, nylon heel insert, elasticated inner inserts, reinforced shift guard and reflective inserts. The SSC Alpha is priced at £154.99.

All items are available in UK Dainese dealers, to find your local store visit dainese.com.