A very Downton wedding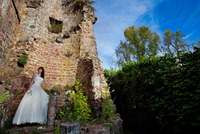 With country house weddings becoming ever-more popular, making your wedding stand out from the crowd can be a challenge. One solution is the themed wedding; basing your décor, outfits and activities around a unifying theme is a great way to make your day a little bit different. One of the hottest trends for 2013, and one which is uniquely suited to grand country house ceremonies, is the Downton Abbey-style 1920s wedding.
Downton fans will have seen the recent marriage of characters Mary and Matthew Crawley, and been inspired by the beautiful outfits and sumptuous locations. And with the latest movie adaptation of Fitzgerald's classic novel The Great Gatsby released in 2013, you can expect roaring twenties fever to reach new heights this summer. The 1920s period offers a great deal of scope for wedding ideas, with stunning vintage cars, gorgeous dresses and elegant formalwear.
Bickleigh Castle wedding
Wedding Inspiration
Art deco was the prevailing artistic movement of the 1920s and 30s, and it makes for a stylish backdrop to your wedding. Everything from invitations to place settings can be rendered in an art deco style. As for decorations and centrepieces, you can't go wrong with feathers, lace, pearls, crystals and gold. Keeping the flowers simple and of one main colour helps to maintain the 1920s look; lilies are a popular choice, or deep red roses, with plenty of dark green foliage.
The 1920s style makes for some truly beautiful wedding dresses. The look is all about slim, feminine cuts in silk and lace, with flowing skirts and delicate pearl details. For the groom, most morning suits will fit the bill, the more formal the better. But if you want to really ramp up the glamour, why not go for a classic black tux? Add bridesmaids in short, fringed flapper dresses and you have speakeasy-era Hollywood look which is both classic and fun.
The beauty of the 1920s theme is that you can be as subtle or as bold as you like. You can go for a full-on vintage wedding, or simply take the elements you love and emphasise them to make your day unique and special. Why not take a look at our Pinterest board for some gorgeous 1920s wedding ideas.
Country House Weddings
At The Country Castle Company they have many properties which are licensed to hold civil ceremonies, and many more which are located within a short distance from a church. They have gathered these properties into a special wedding section on their website to make it easier to choose the perfect venue for your 1920s wedding, and to see the facilities they have to offer. They are always happy to provide further information, so if you have any enquiries about holding a wedding at one of our properties, don't hesitate to get in touch.

For more information, visit thecountrycastlecompany.com.