Renault Clio viral ads near 4 million views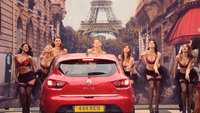 Just two weeks on from the release of its twin, tongue-in-cheek viral videos to 'Reignite your Va Va Voom' for the new Clio, Renault is celebrating their stunning success, after closing in on the 4 million views mark. It's also adding to the fun today with the launch of a sequel – this time, with a new in-car version.

The original two-minute films showed shocked drivers getting more eye-opening local sightseeing than they ever imagined test driving the latest version of its iconic Clio, after pressing a fictitious Va Va Voom button on the dashboard.

Renault produced two versions, both featuring sexy dancers, as well as the return of 'Nicole' and 'Papa'. The version featuring male test drivers is already knocking on the door of three million views alone on YouTube, while the version with female test drivers has surpassed three quarters of a million. They were also profiled on the online channel's 'most popular' section, have been shared over 100,000 times on Facebook and Twitter and topped the Viral Video Chart.
The second instalment gives viewers the chance to experience their own unforgettable 'Va Va Voom' test drive, including naturally, an unexpected twist. From the Clio's passenger seat. But, from wherever they like, be it sat on the sofa, or, on the move.
Viewers are invited to climb on board the Clio for themselves with the launch of a 360-degree interactive version of the video, with hidden features and more detailed car information just a click away.

Matt Lamprell, Digital Brand Communications Manager at Renault, said: "We were really keen to find a way to showcase the new Clio in an innovative way online. We've definitely achieved that with a phenomenal response in the first two weeks. Achieving almost four million views in such a short space of time has surpassed all our expectations. They went 'viral' with one million views within 48 hours of launch, peaking at just under a million views in a single 24-hour period over the Easter weekend. With this interactive version, now we're giving people the opportunity to experience a Va Va Voom test drive in New Clio for themselves. Hopefully it will be a memorable experience!"

As well as being reminded of the car's long history of memorable advertising, the drivers are transported from a London side street to pretend Paris where they experience a group of scantily-clad dancers surrounding the car, live music and a couple kissing.

The two original ads are available on YouTube.com/RenaultUKOfficial, with the interactive sequel on renault.co.uk/reignite. And watch out for the dancers climbing on the back seat in the latest version.

All three were put together by viral video specialists, Unruly Media, media agency Manning Gottlieb OMD and production company Scorch London.