Stunning Hunton 1005 rib at the Antibes Yacht Show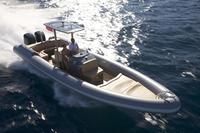 Hunton, the British manufacturer of high-performance, luxury powerboats is proud to announce that their stunning 1005 RIB will be on display for visitors to the 2013 Antibes Yacht Show, April 18-21.

The 1005 will be on display with Tendacentre, one of the leading super yacht tender and chase boat sales and distribution companies, with offices in the UK and Mediterranean.

Combining high-spec engineering with style and speed, the 1005 delivers a fast, stable ride. The lightweight design, superb handling and manoeuvrability are essential when getting owners and guests to shore or safely back to the mother ship.

With a top speed of 65 knots, a range of 250 nautical miles, outboard or inboard engines and the option of having a heads console complete with hot shower, mirrors and lighting, the 1005 is both a superb day boat and a perfect super yacht tender.

"The 1005 is obviously the star of the show as far as we are concerned, despite the surroundings! It is a truly amazing boat, combining raw performance and innovative design together with comfort and practicality that make it the perfect tender for any super yacht. Having just launched the 1005 configurator on our new website hunton.co.uk potential clients can see how customisable this RIB is, and I am sure visitors to the Antibes Yacht Show will love it," said Fiona Pool, Managing Director of Hunton.